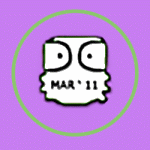 Hello once again to people from the Great Cloth Nappy Hunt – it's about so much more than nappies 🙂  This one is open to people in Australia, New Zealand and I think Oceania, there is another for North Americans.  It is an online scavenger hunt run by the Australian Nappy Network hence the name, but there are all sorts of stores involved including information (that's me 🙂 ), skincare, clothes, toys, chocolates – you name it, anything you can buy online.
About Science@home: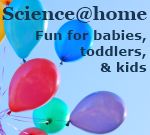 Science@home is my site about science for babies, toddlers and little kids.  I have 4 posts a week with activities, information, lists and photos all about the science you can and already do at home.  Some of my favourite examples are Kid Questions: Why do we have noses? and my series of geeky Christmas presents in 2010, including Beautiful Bottles.  My kids' favourites tend to involve the sandpit like Building Landscapes, or Running Around.
I have a free ebook for you to download called 'Young Scientists' that can get you started, and I'm working on some new things to come out in the next few months.  To stay up to date and get all my posts, sign up for my RSS feed or weekly email newsletter or Like me on Facebook or Twitter.
Products:
I have just launched my first product in time for the hunt, geeky science t-shirts, and in the first week I am running two competitions for free t-shirts.  It's all explained in that post.
I try to make some money through advertising for other WAHMs or businesses, all the information is there if you are interested or contact me.  Plus I am available for free-lance writing and consulting on science and education.
Get to the important stuff!
Now you've read the obligatory 'about me' and have promised to come back and browse :), have a look over on your right and you will see your first clue.  There aren't any hints until the 5th, but after that ask away in the Hint Thread.  And of course, feel free to chat there or here any time.
Enjoy the hunt!
Enjoy this article? Subscribe to the weekly newsletter to hear about them all.
Or grab my RSS feed