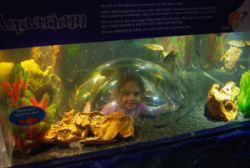 On our holiday we went to the fabulous science museum in Perth, Scitech.  I love Scitech, if we lived there we'd be members.  There are two things reasons I love science museums other than the sheer fun of being there.  One is that the kids remember it, it's something special and exciting and often involves equipment you just can't get at home.  But some of it is adaptable, I always come home from a visit with lots of ideas of things we can do ourselves.  And luckily there are science museums in every state and territory plus travelling roadshows, so almost everyone can go to one: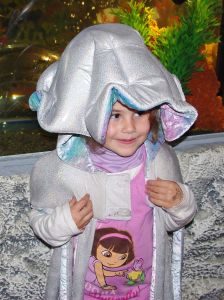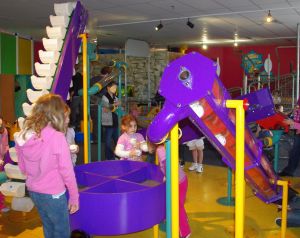 What I like in Scitech is that they have a separate section for the really little ones, with simpler games and activities.  The exhibits are so well designed – I love the ball coveyer that takes a whole group of people working together to make it work.  And they definitely haven't forgotten the imagination, with amazing costumes kids can wear to go into the undersea cave for the underwater exhibit.
The little one decided to stay in the kids section and spent time working out how to get a wheelbarrow full of balls up a flight of stairs, but the big girl confidently headed out into the main concourse and raced bubbles, flew a hang glider and drew with a giant pendulum.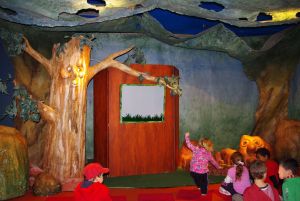 Scitech runs several shows throughout the day and even has shows specifically for toddlers!  We saw a puppet show on dinosaurs using silhouettes.  It was very basic and as adults we giggled, but the kids loved it and the big girl still remembers 'the rock that came out of the sky and killed the dinosaurs.'  They even have a toddler expo and team up with other groups in Perth, so watch out for that from the 7-20th of February 2011.
Enjoy this article? Subscribe to the weekly newsletter to hear about them all.
Or grab my RSS feed