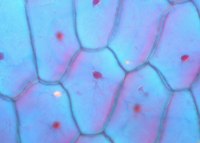 It's not sugar and spice or even slugs and snails. People are made of:
Oxygen 65% – A component of water and all sorts of other things.
Carbon 18% – The basis of all organic molecules.
Hydrogen 10% – The other part of water.
Nitrogen 3% – Part of proteins, which build most of the body.
Calcium 1.5% – Bones and teeth, plus a major electrolyte.
Phosphorus 1% – Bones and teeth, but also needed for ATP which carries the energy our cells need to function.
Potassium 0.35% – Major electrolyte. This means it helps pass electrical charges such as in nerves, balances pH (acidity) and controls how chemicals move in and out of cells.
Sulfur 0.25% – In the essential amino acids methionine and cysteine which build proteins. Found in vitamins.
Sodium 0.15% –Another major electrolyte it is important in balancing how liquids and chemicals move in and out of cells.
Chlorine trace– And yet another major electrolyte.
Magnesium trace – Bone structure and also muscles to stop spasms.
Iron trace – Used in haemoglobin and myoglobin to transport oxygen.
Fluorine trace – Bones and teeth.
Enjoy this article? Subscribe to the weekly newsletter to hear about them all.
Or grab my RSS feed