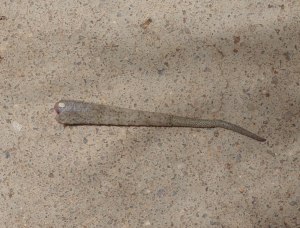 The big girl found a lizard tail. She thought it had been dropped off to trick a bird, but I'm not so sure. I think that line about halfway down is where it should have dropped off and this might be the remains of a lizard that didn't drop it in time.
Those funny round things are actually bird seeds, sorry. We picked it up off the ground and I couldn't get them off easily, they just kept digging in.
It's a bit hard to see in the picture but the muscles are in four distinct groups, obviously to pull against each other and give the tail it's range of movement.
It's amazing what you can find if you are looking closely. The big girl was fascinated to see what it was like inside a lizard and compare it to the meat we eat. It looks the most like chicken 🙂
Enjoy this article? Subscribe to the weekly newsletter to hear about them all.
Or grab my RSS feed