Not creative but practical, I think the girls had just as much fun!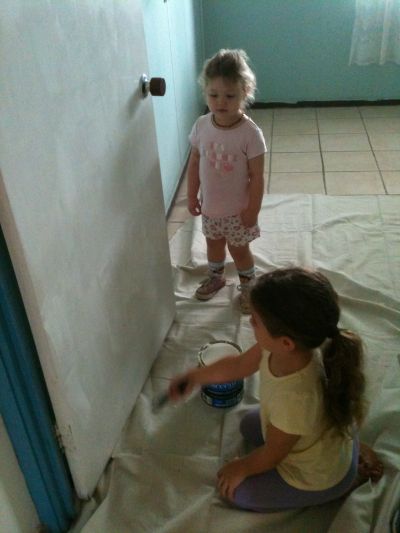 Getting our old house ready for tenants some of the doors were easier to paint than clean.  You know, the ones with stickers, names and lipstick all over them 🙂
Methinks they are a bit patchy with the enthusiastic but unskilled painters (and that's me) but they are fine.
I find paint fascinating, 'using water to move pigment around' as an art teacher once described it to me.  At least with water colours, but other paints are a similar concept.  Those pigments are often minerals that are mined and processed and drying is evaporation.  There are lots of things to ponder as your brush meditatively goes up and down.  (And if like me you are a child of the 80's, you probably have  a little voice in your head saying "Paint the fence," or "Wax on, wax off, …")
Enjoy this article? Subscribe to the weekly newsletter to hear about them all.
Or grab my RSS feed