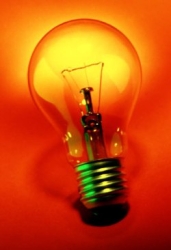 Light and dark is such a profound difference, especially for a baby who's spent 9 months floating in warm darkness. Did you know that babies will react to a light shone on the mother's belly from mid-pregnancy? However it is still a dim, orange world for them and unfiltered light is a shock. While too much can be overstimulating, their curiosity and sensitivity to light means it is a good toy once they are ready to investigate. And that continues right up to big kids.
Here are some games you can play with light, from babies up to big kids:
Torch chasey around the floor, a way of making tummy time interesting for little ones or encouraging crawlers.
Body spotlight – Use a torch to spotlight a body part, fun for little ones learning to control hands and feet and we've found it very useful in a car.
Stained glass windows – older kids will have a wonderful time sticking cellophane onto windows with homemade flour paste, and it's a great thing to do above a baby's bed so they see all the colours. Or do it with leaves.

Shiny mobiles don't have to be the store bought variety. Strands of tinsel, aluminium foil and old CDs are easy to hang up and catch the light.
On and off goes the light switch. Once their fingers get strong enough it's a game they love.
Attract moths by having a light near a window at night. I not only have hundreds of little moths and insects outside my window, I get the praying mantises, lizards and frogs that come to eat them.
Hide and seek – add an extra dimension by playing with lights on or off. Or use a torch to find people, dolls and teddybears.
Shadow play – do it on different scales, with a hand making a shadow on the wall or using your whole body outside.
Shine a light through your fingers and work out why it looks red. What about other body parts?
Make rainbows there are several different methods ranging from a trusty hose, glasses of water to magnifying glasses.
Break your pencil in water, or try to catch fish. They look like they are in a different spot because of the way water bends light.
Play with a Magnifying glass, under supervision use it to focus light and see how it burns things. Obviously this one needs a safety talk, you know if it's a good one for your children.
Bounce light off mirrors, you can even use it to communicate.
And here is the most beautiful scientific instrument I've seen, the Campbell Stokes sunshine recorder courtesy of Kuriositas.
The sun focuses through the sphere and burns a marked piece of paper behind it, you just add up the scorched sections to see how much sunlight there was that day.
This is part of the Childhood 101 We Play linkup.
Get the Thursday Thirteen code here!
The purpose of the meme is to get to know everyone who participates a little bit better every Thursday. Visiting fellow Thirteeners is encouraged! If you participate, leave the link to your Thirteen in others' comments. It's easy, and fun!
Trackbacks, pings, comment links accepted!
View More Thursday Thirteen Participants
Enjoy this article? Subscribe to the weekly newsletter to hear about them all.
Or grab my RSS feed