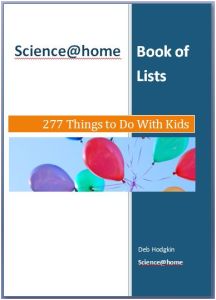 Welcome to the second free Science@home ebook launch, it's a book of lists so I'm launching it on a list 🙂
Isn't it pretty?
When I had a look the other day I realised I have written 76 lists, this makes 77. That's a lot of lists.
I've been called the 'Queen of Lists.'
A lot are factual or trivia, but when I went through them there were 27 lists of games or things to do. Also a lot of lists.
I took a couple out for various reasons – while 13 Things to Do With a Stick is one of my personal favourites it didn't really fit the rest of the book.
I was left with 24 lists with 277 ideas.
Technically there are less than 277 unique activities because some fit in different categories, such as outside and water.
I wasn't going to count them individually, it's still a lot of ideas.
Ideas on lists such as 13 Textures to Paint With, 13 Things to do When It's Raining or 13 Games Inspired by Flight.
I've always wanted to write a post with some outrageous number in the headline.
Seeing the book is a collection of free blog posts, it is likewise free. I like to see children playing interesting games. It does remain my intellectual property.
It's intended as an easy reference because the book format makes it more accessible when you want to look something up quickly.
The deal – easy, peasy. To get the book you click on the blue button just below. It will get you to either Tweet or Like on Facebook. So you are getting 277 things to do with kids for the cost of telling people about it.
Sounds like a good deal to me.
Enjoy this article? Subscribe to the weekly newsletter to hear about them all.
Or grab my RSS feed