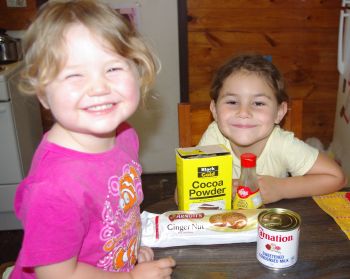 I have mentioned cooking a few times, I think it's something every kid loves. It's a chance to really get their hands dirty and create, then do something with the results! And cooking is probably the area where most of us use science as part of our everyday life – not only the chemistry of cooking, but experimenting with recipes.
Given our weather we do a lot of frozen yoghurt, it's so simple with silicone ice cube shapes, spoon in a little yoghurt and freeze. When it's ready, pop it out into a box to store and you have an instant snack.
Our favourite Muesli bar recipe is based on this one, although we basically do 3 cups of dry ingredients and 2 cups of sticky. And we include yummy sunflower and pumpkin seeds and nuts.
Pikelets were one of the first full recipes we did, we love it because it can be made savoury or sweet.
And to go with them, homemade butter?
Smoothies are fun to experiment with because you can try all sorts of fruits and little additions. A stick blender means little ones can do a lot of it themselves which is very popular.
Seeing we have chickens we can't eat all our eggs, we have to give them away. But we manage to boil, poach, scramble and quiche many of them every week. Our little bento moulds are very popular, the girls love the fancy shapes.
Scotch eggs are a bit more complicated and I haven't made them with little ones, but they do make a great model of the earth.
Pasta – not cooking it, making it! We use an incredibly simple recipe of an egg to half a cup of flour and a pinch of salt, multiplied by how much you want. The girls adore kneading it and putting it through the press, although it mostly ends up very tough because it's so overworked 🙂
Fruit kebabs are another one they love doing on their own, although rather than a full kebab we usually just use toothpicks.
For the international readers, a Spider is cool drink with a scoop of icecream in it. Traditionally we used lemonade and vanilla, although ginger beer, fanta and red creaming soda are lovely as well. It works because the organic molecules in the icecream are long chains, which catch the bubbles in the cool drink and create a stable foam.
Rice cookers make it easy for little ones to help with dinner. Brown rice is an especial favourite, and the girls can safely add rice, flavours, spices and veges then measure in the water at the table, then I put it in the cooker and we wait. We use Kiddie Kutters so they can chop things safely, a bit of detective work leads me to think they are actually pumpkin cutters USians might recognise from Halloween.
Big girl insists on her title of the Salad Queen and makes our salad for dinner at least once a week. They like going through the fridge to see what they can add this time.

Now that the big girl is at school, part of every evening's routine is the packing of the lunch boxes. And it is definitely plural, the little girl has to have one too. We don't explicitly talk about food groups, but they know that there are types of food and they have to have a bit of each one. They enjoy mixing and matching how they will take the fruit or vegetables today.
How do you cook with your kids?
Enjoy this article? Subscribe to the weekly newsletter to hear about them all.
Or grab my RSS feed