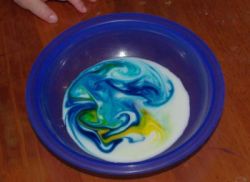 So we all play with lots of solids all the time – rice, textures, stones, playdough, even leaves.  But for some reason (um, mess maybe?) we don't tend to play with liquids as much.  So it's something new for babies, and it really makes kids feel like little chemists.  I touched on some when we were playing with colour, here are some other ideas of ways to play with liquids.
Dissolving – sugar and salt are both good and you can play with mixing, crystal size and using hot water.
Detergent – Put some in a bottle with water and shake it up for babies, or even better in a large bowl and use an egg beater for toddlers.
Make layers – lots of liquids don't mix and will make layers if you pour them in carefully.  Oil and water is and easy one, but try coloured salt water as well.  This is another one you can put in a bottle for older babies, especially if you use coloured water.
Sparkling water – come on, don't you want to?  We have a soda stream which is the best, but soda water from the shop is good too.  Put some in a little popper bottle, take it outside, shake it up and have fun!
Squash it – It's quite easy to get hold of syringes, either through a pharmacy or with lots of children's medicines.  Big ones work best for this.  Fill it with water and squeeze the plunger, either with your finger over the end or otherwise closing it.  You can actually squash the water a little bit (and then shoot it everywhere).
Drips or shots? – use an eye-dropper or syringe to drip water onto a cloth, it usually forms balls and can run over the surface rather than soaking in.  Then try shooting it quickly.
Vinegar – Pour vinegar over some bicarb soda for lots of fun 🙂
Vinegar (again) – put a chicken bone in vinegar for a few days and it will come out bendy!  (Must do this one for the blog.)
Toothpaste – Squeeze some into a clear container with a lid, then shake and see what happens.  Try adding some water and making a lather.
Conditioner – try it on wool, cotton and other threads to see what it does.
Glues – there are so many different glues to compare, they are great fun to experiment with.  Some easy ones to find or make are paste (Clag), clear gum, PVA (white glue) and flour paste then there are two part glues that need to be mixed and hot glue.  You can compare the look, smell, feel and drying time, try gluing different materials and see which ones are easy to work with.
Paint – Squishing finger paint is so much fun!  Plus there are two types of homemade paint I've seen around the bloggy world we'll be trying – puff paint over at Bilbified and homemade flour paint coloured with food from Stuff with Thing.
Goo – I really want to do cornflour goo on Science@home.  Really, really want to.  Unfortunately it only works with real cornflour made from corn, and the only brand I can get is 'wheaten' cornflour, which means wheat.  So you'll just have to go out and make it on your own and tell me all about it.  And if you do manage it, let me know what brand and where you got it (in Australia, I don't think customs would let us ship it in from overseas)!  Good for babies to squish if you make it up a bit thicker.
Have fun!
Get the Thursday Thirteen code here!
The purpose of the meme is to get to know everyone who participates a little bit better every Thursday. Visiting fellow Thirteeners is encouraged! If you participate, leave the link to your Thirteen in others' comments. It's easy, and fun!
Trackbacks, pings, comment links accepted!
View More Thursday Thirteen Participants
Enjoy this article? Subscribe to the weekly newsletter to hear about them all.
Or grab my RSS feed