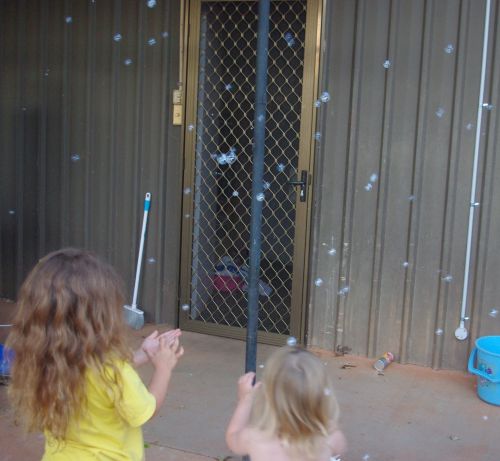 This post is part of the Science@home Teach/Learn carnival, May's theme was Outside so I've got quite a list of things to do there. It's freezing cold but sunny here, so we're trying to rug up and do lots of outdoors play. Here are some ideas.
Make crystals, it's beautiful weather for evaporating.
As a change from painting, try dying or reverse dying.
Get into the sandpit and make a volcano.
Make a Water wall.

Or how about this Fizzing Sidewalk paint from Quirky Momma?
While you're in the sandpit you can build some landscapes.

And then it's just fun to run around or fly kites.

If you want to go even faster, go for a ride on your bike.

If you have a pool or even a tub of water you can play with balls.
And if your weather isn't as dry as it is here how about playing in the rain.
Maybe go for a walk and take along your field journal.
Or if there's nothing growing near you, you can sprout your own peas.
And after all that, you can even Clean up.
Have fun getting outside today! Have a look at Childhood 101's We Play linkup for more play ideas.

Get the Thursday Thirteen code here!
Enjoy this article? Subscribe to the weekly newsletter to hear about them all.
Or grab my RSS feed