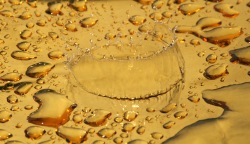 Seeing I looked at energy last week, I thought I'd look at water this week.  I did a list of things to do with water almost exactly a year ago, if you add these ideas you'll have even more games!
Oil and water – Either make layers or put the two in a bottle with a tight lid to play with.  Another fun one for older babies if you add a drop of colour to the water.
Floating and sinking – Put different things in a puddle or small container to see which ones float or sink.
Detergent mixing – Put a bit of water and a drop of detergent into a large bowl and let them go with hand beaters.  Or half fill a small bottle with a drop of detergent and close it tightly.  This one is good for babies as a type of rattle.
Colour it – Put some in a clear bowl and watch through the side as you drip colour in and watch how it spreads out.  You can then paint with it.
Currents – Push your hand through the water and watch how other things move without you touching them.
Water wheel – Either a homemade one or a bought one, these are fun for every age.
Containers – Pour water between containers.  This is really good if you can have containers the same size but different shapes, or the same shape but different sizes.
Build landscapes – I love making little streams and watching how the water flows.  It's almost hypnotic. 
Imaginative play – A few props can make imagination richer.  Play with boats, fish, merpeople or look for sunken treasure.  Pretend to be a raindrop!
Sponges – Generally great fun squeezing them, seeing the bubbles and feeling the water coming out.  Or on a hot day throw them to (at?) each other for cool fun.
Surface tension – There are all sorts of fun ways to play with the skin on top of the water. 
Rainbows – with a glass of water or with a hose, put your finger over the end to make it spray in the sun and see the rainbow.
Slip around – Spread a tarpaulin out somewhere safe and mix up a bit of detergent in a bucket of water, then pour it over.  Great fun to roll and slide around and a big change for crawling babies.
That's 23 things to do with water all up.  What other games do you play with it?
Enjoy this article? Subscribe to the weekly newsletter to hear about them all.
Or grab my RSS feed