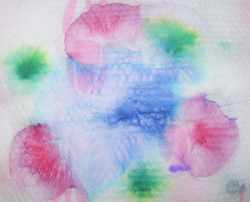 A while ago I briefly mentioned physical and chemical changes.  I've actually written about lots of physical changes, but here I've pulled together some suggestions for playing with them – a simple definition is that they are the ones that can be undone.
Dissolving – A great fun one to play with, there are so many common things that dissolve.  Start with salt, sugar and cordial.
Melting – It's easy to watch with something like ice, but around here the butter is melting quickly too!  We've learnt all about separation lately.
Freezing – Iceblocks are hugely popular just on their own, but some of our favourites are homemade frozen yoghurt or yoghurt/milk and fruit/milk icypoles.
Evaporating – This is another one we're learning about now, with calcium marks left in every drying puddle.  But it's more fun to make crystals.

Boiling – All those bubbles are the liquid changing into a gas.
Subliming – This one is cool but difficult to do at home, it is when something goes directly from solid to gas without being a liquid.  Dry ice makes that wonderful smoke because it is frozen carbon dioxide subliming.  I'm sure there will be lots of this happening towards the end of the month.
Erosion – There is both chemical and physical erosion, it's fascinating how wind, water and friction shape the landscape around us.
Heating – Things don't always melt or boil when you heat them but they still change.  Think about incandescent light bulbs or bar heaters.
Distilling – A very special type of boiling, this is when you boil a mixture and the different parts boil at different temperatures.  If you collect the steam at the right temperature, it separates whatever you are after.  This is how things like essential oils are collected from flowers.
Drying – Sort of the opposite of evaporating, or the same process from the other side – the liquid evaporates and the solid left behind has dried.
Crushing – Or grinding, or smoothing.  They are all changes in the surface area and texture that can affect how things work.  Generally things mix better when they are crushed, or have less friction if they are smooth.
Separating – The opposite of mixing is just as important, very few things come pure and they need to be separated to be used, or to find out what is in them.
Lots of ideas there 🙂
The Thursday 13 meme is to get to know everyone who participates a little bit better every Thursday. Visiting fellow Thirteeners is encouraged! If you participate, leave the link to your Thirteen in others' comments. It's easy, and fun!
Trackbacks, pings, comment links accepted!
View More Thursday Thirteen Participants
Enjoy this article? Subscribe to the weekly newsletter to hear about them all.
Or grab my RSS feed