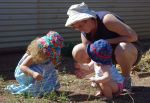 Obviously not house type properties!  Properties as in 'what things are like.'  Try picking one and spending a day playing with different things that have that property.
Hard – uncooked pasta, wood, rocks, tiles

Rough – bark, sand, mats, multigrain bread

Loud – saucepans, music, cars,

Warm – water, food, sunshine, lights

Bright – torches, alfoil, photographs

Smelly – flowers, food, cleaning products

Cuddly – blankets, toys, pets

Sour – lemons, vinegar, unripe fruit

Rhythmic – washing machines, music, skipping

Slippery – bubble bath, silk or polyester, lip balm

Floaty – bubbles, tissue paper, paper aeroplanes, balloons

Bendy – branches, dolls, plastic
Get the Thursday Thirteen code here!
The purpose of the meme is to get to know everyone who participates a little bit better every Thursday. Visiting fellow Thirteeners is encouraged! If you participate, leave the link to your Thirteen in others' comments. It's easy, and fun!
Trackbacks, pings, comment links accepted!
View More Thursday Thirteen Participants
Enjoy this article? Subscribe to the weekly newsletter to hear about them all.
Or grab my RSS feed