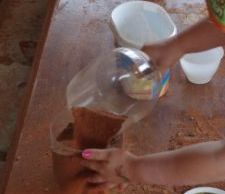 As part of our impending move we're going through all the toys.  And it turns out a lot of them are either recycled or household items that weren't originally meant as toys.  So here are some of the things you may not have thought of playing with:
Shaving cream – this is a perennial favourite,  we buy the cheapest homebrand specifically for the girls then colour, mix and play.
Sticky tape – not just to stick things, toddlers will spend ages trying to pull it off, unstick it and pick things up with it.  Rolling it into a ball is fun as they try to pull it off their hands.  We get patterned ones from $2 shops.
Wrapping paper – Not only is wrapping great fun, it has lovely pictures as well.  Good for cutting skills, collage, even illustrating stories.  (In an ironic twist, we generally wrap presents in artwork and keep the wrapping paper with the craft supplies.)
Flower petals and leaves – We're very fond of fresh flowers when we can get them, then keep the dry petals for collage.
Straws – For older kids they are great for painting, bubble blowing and threading, but they also make great mobiles for little babies.  Simply tie a string tightly around the middle of a bunch to get a star, or use a needle to go through the middle of them for a twisting mobile.
Plastic bottles – these aren't just good for shakers and rattles, you can cut them up to make all sorts of things like funnels, scoops and moulds.
Boxes – to decorate and keep treasures in, turn into cars, dioramas, or houses.
Calculators – these are pretty popular here as something to push buttons on, or the big girl is learning her numbers.  But as far as the little one is concerned, they're mobile phones.
Torches – these actually got their own list, we have so many uses for torches around here!
Icecream or yoghurt containers – when my girls were around 6 months all they wanted to do was take things out.  So I put several containers with little balls, figures, cups and small toys around the house and they would have a ball crawling from one to the next.  Or cut a hole in the lid of an icecream container and you have a great posting game.
Business cards – this is a variation on taking things out of containers, getting business cards out of a purse or organiser is great fun.
Bubble wrap – who doesn't love it?  Especially if you dance in bare feet.
Sock puppets – Another old favourite, isn't it nice that they come in different sizes to fit different hands.
What are some of your favourite repurposed toys?
Enjoy this article? Subscribe to the weekly newsletter to hear about them all.
Or grab my RSS feed