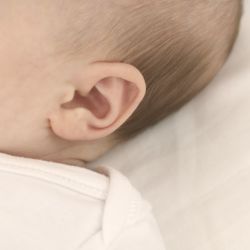 Babies are born not knowing much about sound.  They definitely hear in utero but most of it is from their mother's body so it is all around them.  Learning to find sounds and about different pitches and types of sounds right through to toddlers making sounds are very important for language development and can lead to lots of fun games.  My eldest daughter had a speech production problem which caused a speech delay and some of these were games we were encouraged to play with her to help her development.
Talking – Yes, we all know this one.  Interestingly it's been shown that how much Dad (or other secondary carer) talks is a predictor of speech development, probably because most Mums rabbit away to their babies so it's in the other carers that there may be a difference.
Singing – Babies are a bit like the shower, everyone sounds good.  It introduces them to pitch and rhythm, both important in understanding speech.  Older children can fill in words or lines on their own.  You can make up little songs to go with actions you do a lot, such as baths, and it helps children learn language through repetition and pattern.
Where is it – Being able to pick where a sound is coming from can be a bit like peekaboo.  Sit your baby up and shake a rattle in different places, they can turn their head for a big smile.  They can identify to the sides first, then move around behind them.  Above them is the last place they can locate.
Bells and rattles – Being able to make their own sounds is fascinating.  Many music stores have bells or other instruments designed for babies, combined with singing it is a whole body experience.
Drums – Once they are mobile the plastics cupboard is you best friend!  They can experiment for ages with the different sounds that come from different sized containers.  If you give them beaters like spoons or rulers they can do even more.
Music – It doesn't have to be Mozart, babies like anything with rhythm and bounce.  Dancing encourages body control and can start with little babies in a carrier.  For older toddlers it's a fun way to develop gross motor skills.
Animal sounds – Copying animal sounds is often easier than speech.  Did you realise it's also early literacy?  If your baby or toddler is seeing an animal in a book and making the appropriate sound that's making sense from a text, otherwise known as reading.
Kicking – Everything that can be done with drumming and rattles can be done with kicking too.  For babies still learning where their arms and legs are wrist and ankle rattles can help.  They don't have to be elaborate, an elastic scrunchie threaded through a bell then popped on.  For toddlers and preschoolers they can learn to balance by kicking a bin as easily as a ball.
Whispering – Listen carefully and speak precisely.
Pitch – High pitch tends to be exciting and low pitch is calming, a useful trick with toddlers or preschoolers who are getting worked up.  In speech, rising and falling pitch signals things like questions, so talking funny is a good game.
Go outside – There are all sorts of different sounds outside!  Find the car/plane/bird is always fun, and older ones can learn a lot about wind and weather by listening.
White noise – I think most parents now of this as a way to help babies sleep!  It's definitely a good mask for other noises that might be disturbing, did you know it's one of the easiest sounds to track?  There have been experiments with emergency vehicles that found a blast of white noise as part of the siren signal helped cars get out of the way quicker because they could locate it more easily.
Identify the sound – you can go all high tech with recordings or just make a sound behind a screen while they try to identify it.
Finally I leave you with one of my favourite acts that is all about sound, Stomp in Brooms.  It's definitely worth checking out their other acts as well – you can't go past men tapping in steel capped boots.
Enjoy this article? Subscribe to the weekly newsletter to hear about them all.
Or grab my RSS feed