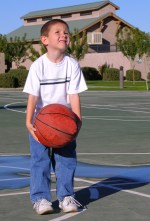 Balls are great toys for all ages, they are simple so let the imagination run.  They can help develop fine and gross motor skills and trunk strength in babies, as well as hand-eye co-ordination.
Rolling – Marbles for big kids, beach balls for babies, even great big balls for little ones learning to walk.
Kicking – Standing on one leg or drop kicking are great, but what about really little ones?  Hang a beach ball above a baby who is just discovering they have legs and it's as much fun as anything that lights up and whistles.
Throwing – two handed, one handed, underarm, overarm.  There's lots of skills here and generally it needs co-operation as well.
Catching – More complicated than it sounds!  Start with a big soft ball for littlies, for all the times it smacks them in the face and they laugh hysterically.

Bouncing – Great fun to see how high it can go!  Bonus points for hitting the ceiling 🙂  But you can also bounce different ways – against a wall or even wall and ground combinations.  We used to play handball for hours, with all sorts of elaborate rules.  That's another form of creative play.  Neat activity: Hold two balls on top of each other, preferably a tennis ball on top of a basketball or similar.  Drop them so they fall together, the bottom ball will stay pretty still and the top ball will shoot off.  Very cool.
Using bats – *shudder* I just had a vision of toddlers and bats.  Move along people, you get the idea.
Aiming – My 2 year old has surprisingly good aim and always has done.  But you don't just have to aim at Mummy, try throwing bean bags into a hoop, or golf balls into an icecream container, or handballing a football (AFL) into a circle on the wall.
Rolling down a ramp – Slides are great fun!  Or there are these amazing purpose built marble ramps we love, and trainsets always come in handy.
Painting – Best with small balls, but you could do it outside with big ones.  Line a box with paper and dob on some paint.  Put in some marbles or golf balls then tilt the box to roll the balls around, hopefully aiming them through the paint.
Pendulums – There is a great post of pendulum play ideas at Irresistible Ideas for play based learning.  I love the idea of putting a ball in a stocking and letting the kids go, we'll be doing that very soon.
Bouncing on – I started this one when my girls were babies 3 or 4 months old and 4 years later I'm still going.  It's a bit like a safe trampoline for babies.  Put them on top of a big rubber ball or ideally one of those fit balls and bounce them.  Sometimes I'd sit them up while singing songs.  Sometimes I'd lie them on their tummies and bounce with my hands on either side – they're close enough to stop them going anywhere but not actually holding them so they get to slide around a little bit free.
Rolling on – Put them on their tummy on a fit ball and hold their ankles firmly, rolling them around.  Roll them forwards so they can try to touch or pick something up off the ground.  This is another one designed for babies, it's fantastic for pre-crawlers to develop trunk and neck strength and hand-eye co-ordination, even babies who don't like 'tummy-time' often enjoy it.  But I made the mistake of doing it with the 2 year old at pre-school last week and ended up with half the class wanting a turn – the big ones will do it for as long as you can safely hold them!
Balancing – I have a confession – I cannot balance a basketball on my finger, I definitely cannot spin it, in fact I pretty much have difficulty balancing it on a flat hand.  I blame my father, whose co-ordination sucks.  So in my opinion this is definitely an advanced skill.  But a lot of fun to develop!
Bonus: Splashing and floating.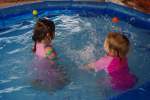 Enjoy this article? Subscribe to the weekly newsletter to hear about them all.
Or grab my RSS feed