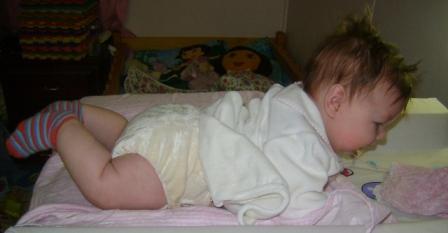 Little babies are fun, but they can also be quite scary – what am I supposed to do with this baby for all those hours? Really babies just need to do things and be interacted with to soak it all in, but Mums (and Dads) could do with some different activities. So here are some ideas to get babies moving. Many of these will be a hit with older kids too with a little modification.
Being an aeroplane swinging on your forearm.
The babycycle, lying on their backs cycling their legs.
Baby situps. No they don't have stomach muscles, but lie them on a wrap or rug facing you then use it to lift them. And then of course it can wrap them up for Roly Poly or Swing them.
Obstacle courses including pillows to crawl under, over and around.
Push me, pull you sitting and holding hands, rocking back and forth.
Torch chasey is one of my favourites, my girls still play it giggling madly. Just crawl frantically after the spot on the floor.
Beach Balls were one of our favourite toys. Balance on your tummy, roll it over you  or take aim to kick at it.
The Pushing Game – when they are on their tummy kicking, gently block their feet so they push themselves forward a little.
Walk the line, or path for early walkers. Draw a path with chalk and see if they can walk in it, as they get more accomplished make it narrower. This can lead to walking along a rope or on a beam for toddlers and preschoolers.
Hide the toy encourages them to move, pull themselves up and stand. Down the back of my neck was always a favourite place to hide a little toy, let them see you hide it so they know it's there to get!
Monkey see, monkey do, sit in front of them and copy their movements. For little babies this will catch their attention, older ones will start copying you back.
Splashing with hands or feet, in the bath or in a tub of water.
Rolling along, chasing a rolling bottle or toy.
Babies can be great toys 😉
Enjoy this article? Subscribe to the weekly newsletter to hear about them all.
Or grab my RSS feed