A quick 5 minute activity, because that's about how long they last!  But they're heaps of fun to come back to.
Mist or condensation forms on glass when you have a humid atmosphere and a temperature difference.  This happens in bathrooms, on windows in winter and when you get into cars.  The reason is that when water is nice and warm, it will stay as a gas in the air.  But when it gets close to the cold glass it condenses back into liquid water.  On glass it tends to form micro-droplets, which spread across the surface like a mist.  When you draw with your finger you disturb the droplets and leave behind oil from your finger.  This makes the water form films or clump into large droplets and leaves a line you can see.
Babies –
Put them on the ground close to a sliding door or full length window and let them feel it.  They can feel the cold, the wet, and will love making marks.
Make a hand print and talk about their hands.
Set up their high chair so they can reach a mirror in the bathroom while you shower.  Or put a childproof mirror on the floor with them.
If you have a shower with a glass surround let them sit on the bottom and play.
Toddlers –
Get them to draw pictures, a car window is the perfect size for finger painting.
Talk about cold, hot, wet, dry.
Watch the big drops that form and see where they go.  You should be able to see them joining together and follow their track down the window.  Race the drops – choose one each and see which one 'wins.'  Do they go faster when they are bigger?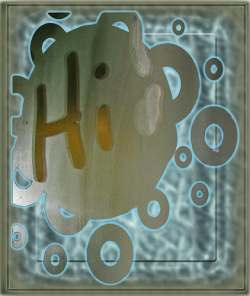 Kids –
If they are learning to write, they can copy licence plates or signs they can see.
Write messages to people in the mirror.
Draw a garden and have little frost fairies playing in it.
Breathe on something cold and make your own mist, CDs and hand mirrors work well.  Then you can talk about breathing out water, and that your body is very warm.
Try making secret messages – write something on a clean mirror before a shower and see it come up.  This one is because the oils on your finger stay there for a while.
Do you play with frost pictures?

Enjoy this article? Subscribe to the weekly newsletter to hear about them all.
Or grab my RSS feed