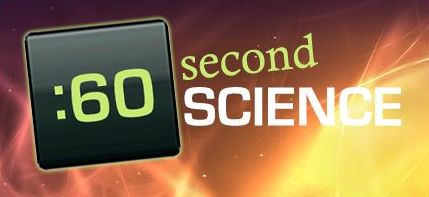 Logo belongs to 60 Second Science, definitely not to me.
The Victorian Education Department sponsors a fabulous competition called 60 Second Science. It's very simple and open – make a video of 60 seconds or less and explain some science. That's it. Forgetting the competitive aspects, this is a great idea for any teacher or parent – after all, the best way to see if you understand something is to explain it to someone else.
Not only that, all of the entries from the last three years are on their website. So if you are a teacher after something interesting to show your students or a parent who thinks quick videos might be fun, definitely check it out. There is everything from all the tricks you can do with the old vinegar and sodium bicarbonate to the immune system, why balls roll, the water cycle, light – truly a bit of everything. There is even a LOTE category for students to use different languages and English subtitles and International categories.
I discovered it when looking for videos of chemistry experiments to show a class and of course the big girl and I had to enter it. She had just told me she wanted to do an experiment filling bottles with different things and knocking them over with balls so that seemed perfect. Seeing she was only 5 at the time the rules said I was allowed to edit the movie for her, but she designed, conducted and then narrated the whole thing. I didn't even try to steer her away from bright pink backgrounds because it is her movie.
Even more exciting for a little girl and a proud Mummy, she won the NT Primary School category. I'm just glad I'm not one of the judges – how do you compare a 5 year old who has help to 10 year olds doing it on their own?
Anyway here it is: Balls, Bottles and Ramps.
I did one as well, although given my primitive animation skills it doesn't look like what was in my head. But I'm still pleased with it. I didn't win anything, which I choose to interpret as an indication of the extremely high standard of entries in the Open category 😉
Evolution
If you have children who are even vaguely interested in either science or videos, have a look. I love it when kids show us how capable they are.
Enjoy this article? Subscribe to the weekly newsletter to hear about them all.
Or grab my RSS feed