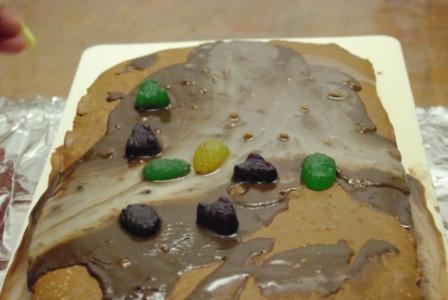 Have you ever really looked at a river? How it twists and turns and meanders rather than going straight? The reason why is very simple – the ground isn't perfectly flat and every little bump acts like a hill to turn the water.
We modelled this using a cake, icing and lollies, then got to eat them afterwards!
First we made up a cake and cooked it in a baking pan so it was large and flat, using a slightly shorter cooking time.
We used alfoil to protect the table and put the cake on a board, then tilted one end of the board up with a couple of boxes of matches underneath. 
Then we poured runny icing down the cake – you can see how the bumps made the icing go around them and changed the direction.
Now here's the clever part. (But wait! there's more!) Rivers don't just flow down once. They get larger and smaller with the seasons, and they flow down over and over again. So look what happens when we let last year's mud (aka brown icing) dry out a little, then poured some more water (white icing) on.
When the water recedes and the banks dry, they create their own bumps and little hills. And they tend to magnify the bumps the river went around last year, which means the bigger hills turn the river more. You can see the white icing turned more than the brown. And there you have your own extremely yummy meandering river.
Enjoy this article? Subscribe to the weekly newsletter to hear about them all.
Or grab my RSS feed