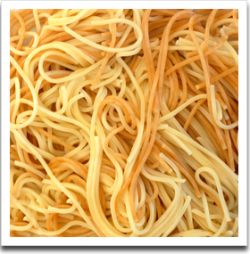 That just wouldn't be right!  Gooey and slippery and floppy and ewwww!
An important concept that leads into chemistry is that materials have properties, and we choose our materials based on those properties.  So tables might be made of wood because it is hard and strong but easy to work.  But asking kids to think of why a table is made of wood doesn't work very well, it's much more fun to give silly answers.
Would you make a chair out of prickles?
Would you make a bed out of rocks?
How about clothes made out of alfoil?
A house of cards?
Play around with it and have fun, make models or try them out – Let the toddler spend the morning wearing alfoil!  Rather than giving up, how can you make it work?  Or older ones can make up a story – what would it be like to live in a city of glass houses?
It's fun to play with 'what if?' and it also teaches you a lot about the world you are in now.  What are some other silly materials you could play with?
Enjoy this article? Subscribe to the weekly newsletter to hear about them all.
Or grab my RSS feed