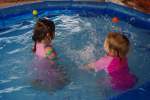 You don't need a pool for this, you could do the same thing with some balls and a tub of water, but it's fun to get in there and splash!
We have lots of little balls lying around our house, they're a favourite toy, so we collected some and played with them in the pool.
Some of the things we noticed:
Hey!  Some of these float and others sink to the bottom!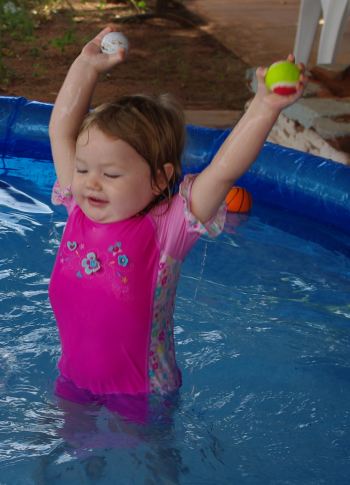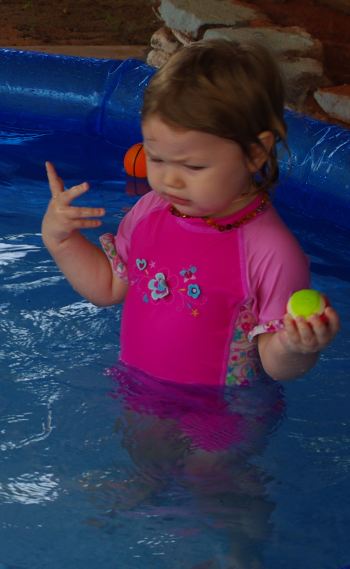 For those into baby sign language, that's her sign for "Where is it?"
The big girl and I had a good talk about which ones floated and which sank, it wasn't as simple as the ones with air in them because we had a few foam balls too.  Luckily we also had some sponges, and she'd been standing on them in the water watching the bubbles, so she understood that the foam balls have air in them too.  There were even a couple of fabric balls that floated halfway down.
All sorts of things about splashing!

Dropping them makes less of a splash than throwing them.
Dropping them from higher makes a bigger splash.
Bigger balls make a wider splash.
When you drop the heavy balls you can actually see the deep hole they make in the water and the big plume behind them.  Unfortunately I couldn't get a photo.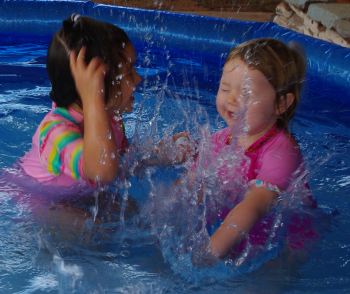 The simple explanation for all of these is energy.  When a ball goes into the water it displaces some and transfers its energy to the water.  So the more energy the ball has, from throwing, falling further or being bigger, the more energy there is moving the water into a bigger splash.
You can use the currents of water to move the balls without touching them.  We walked around and around the pool until we had a whirlpool (and a very dizzy toddler) and all the balls were going around too.  A great way of seeing the properties of liquids and showing the water is moving even though you can't see it.
Enjoy this article? Subscribe to the weekly newsletter to hear about them all.
Or grab my RSS feed