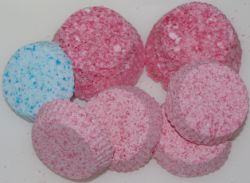 It's counting down to that time of the year, so I'm starting a series of posts on Christmas presents for or from little science geeks.
Bath bombs are a great present for any age – little kids think they are hilarious fun, and they make a wonderful handmade present for Grannies or teachers.  Or you could give your little scientist a kit and your time and spend Christmas doing something other than recovering from being woken early.
They are very simple, but the timing on the mixing needs to be very fast.  And be warned – you only need a tiny bit of witch hazel, it took us several batches to get it right.  But the good thing is that even the ones that don't work as present quality bombs can be crushed up for fizzies or popped into your own bath that night.  A few failures just mean more bathtime fun for you.r
We made ours by fiddling about with the recipe here, it has lots of other ideas that are worth looking at when you have mastered the basics.
Materials
1 part Citric Acid, from the baking section.
2 parts Bicarbonate Soda (baking soda, not baking powder)
Oil (optional)
Colouring (optional, powdered colour works really well but normal food colouring is fine too)
Witch Hazel in a spray bottle with a fine mist setting.  Try a pharmacy or the skincare section.
Moulds, we used silicone cupcake moulds and they worked very well.
Method
Make sure everything is scrupulously dry.  Any liquid in the bowl or moulds will make them react.
Measure your citric acid and bicarb soda into a bowl and mix really well, they need to be thoroughly mixed together so they can react.  This is a good step to involve toddlers in!  We found using a half cup measure made a good sized batch.  If you have powdered colouring, add it now, but NOT liquid.
Add a tiny bit of oil if you want it to be moisturising, even half a teaspoon of olive oil in the batch made a big difference in the bath.  Mix thoroughly.
If you are using liquid colouring add a couple of drops and mix well straight away.  Because it is liquid the ingredients will start reacting so it is important to move quickly.  You only need a little bit, the witch hazel will bring out the colour more.
Keep stirring and mist with the witch hazel.  I cannot emphasise enough to only use a tiny bit!  Your mixture will react to the liquid, which is why you have to keep stirring.  It will still look like a dry powder when it is ready, as soon as it starts sticking together at all start putting it into moulds.
Press it down firmly in the mould, the more you pack it in the denser and longer lasting the bomb will be.  Another fun step for little ones.
Let it set for a few minutes then tip them out to air dry for a few hours, make sure they are stored in a waterproof container.
Other Ideas
If you have too much liquid in there, the mixture will react and grow.  Great fun for kids watching but not so pretty at the end.  Let it dry then either use it yourselves or crush it up into a powder again.  Put it in a pretty jar and it can be sprinkled into a bath as a 'Fizzy.'  You could even do this on purpose by just sticking with the dry ingredients and make pretty colour patterns in the jar.
If you can't get citric acid use Cream of Tartar or Tartaric acid.
Citric acid is from citrus fruits and tastes like lemons, so the citric acid/bicarb mix can also be used for sherbert!  Try putting a bit on your tongue to feel it sparkling, add icing sugar to taste.
Explanation
This is exactly the same reaction that happens in a bicarb and vinegar volcano, the difference is that the acid and base need water to mix.  So:
baking soda (sodium bicarbonate) + citric acid –> carbon dioxide + water + sodium citrate
It is the bubbles of carbon dioxide that make the fun fizzing.
Use nice moulds and wrap them in pretty cellophane for a lovely present.  Take photos of your children making them and use them for the card.
Enjoy this article? Subscribe to the weekly newsletter to hear about them all.
Or grab my RSS feed