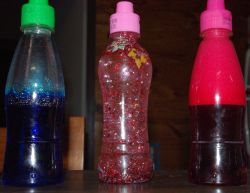 This is the seventh in my Christmas Presents for or from Science Geeks series, the previous ones can be found here.  That's a lot of homemade present ideas don't you think?  I'm impressed.

This doesn't mean painted and decorated bottles, it's what goes inside them.  They are good for babies up, I know many adults who enjoy playing with them, including me 🙂  I think these are actually my favourites of what we've made, they were so simple but look really effective and are fun to play with.
We collected small fruit juice bottles and washed them out, and used a jug with a pouring spout so the girls could put the liquids in.  When we were happy with them, I sealed the lids with a hot glue gun.  I need to give credit for the idea to Quality Kids Crafts.
Bottle 1: Bubble Rattle

This is a great alternative to a rattle for very little ones, both of my girls played with them.  They can shake and watch the bubbles slowly popping, in this one you get a lovely colour change as they go.  Or move them back and forth and feel how the weight changes as the water moves.  Just be aware of how much they weigh and make ones for small babies very light.  They're extremely simple – put a good amount of detergent in the bottle then add food colouring and half fill with water.
Bottle 2: Glitter Snow Bottle
You can use all sorts of little things for this one like beads, sequins and especially glitter, just remember that plastic floats.  Put your bits and pieces in, then add the water.  To make them swirl better you want to thicken the water, you can do this by adding syrup or dissolving sugar but we added glycerine.  The more you add the slower it will go.
Bottle 3: Oil and Water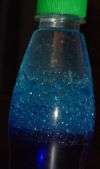 Remember how they don't mix?  It looks even better if you have food colouring so the water stands out.  We used baby oil because it's lovely and clear and dark blue water.  You can either use it to swirl back and forth and make waves like those desk toys, or give it a good shake then watch as it separates.
These worked really well, I highly recommend them for any little people in your life!
Enjoy this article? Subscribe to the weekly newsletter to hear about them all.
Or grab my RSS feed