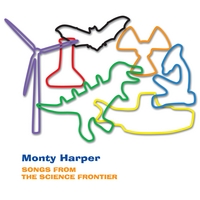 I mentioned a while ago that there was a CD of science songs being promoted, it needed a certain number of backers to be produced.  Luckily we got enough and it has not only been produced, I have several signed copies in my hot little hands.  The big girl loves it and it is her new favourite CD even though she's a little young for it, it's really aimed at kids eight and up.  She doesn't get most of the songs, but there are a couple she understands and she is enjoying the songs enough on their own that she's working out the words as a challenge.
I love the songs and can't rave about them enough, because it's a great example of what I am always trying to do: relate science to everyday things  that people can easily understand.  It takes a very personal aproach, each song is based on an actual scientist and their work.  They deal with some very advanced concepts including how scientific research works (It's Not Fair), radiometric dating (Grain of Sand) and bacterial senses (My Molecular Eye).  Most of them are a bit beyond the girls but they have sparked lots of discussion and we have been looking up Acrocanthosaurus on the internet.
Here is the big girl's take on it:
What do you think of the CD? It's good songs.  I like the words and partly I like the music.  I play it to listen to and sing along with.  I like his voice because I can hear the words, but I don't understand all of them so it's funny.  But when I listen to them more I'm working them out – now I know it says "Break the code" (in Super Scientist).
Which is your favourite song? The sun shining down on earth (Wind Energy)
What do you think it's about? (With help!  She kept repeating the words, putting it into her own words instead is a big jump in comprehension.)  The sun makes the earth hot and makes a breeze.  The breeze makes the windmill go round and round.  They used to make flour, but now it makes electricity which makes the lamp work.  He's turned it on and he's reading a book.
Who do you think would like this CD? Big kids and I'm a big kid.  I think my friends would like it.  And my teacher to play to all the kids.
So that's a 5 year old's take on it.  I love it, it's catchy and will get you to sing along, the songs are interesting, informative and understandable.  If you have older kids it's definitely worth a look.  It's available from CD Baby who ship internationally or have previews and downloads for each song separately, or through iTunes.  The CD has bonus features through your computer, I haven't had a good look at them yet.
Giveaway:
I should mention now this is unsponsored, I just like the songs and want other people to experience them too.  I'm giving away a signed copy of the CD, all you have to do to enter is visit either CD Baby or iTunes and comment here to tell me which of the song previews you like the best.  Competition finishes Monday 14th February, winner will be chosen randomly and announced on Tuesday.  Don't forget to leave your email address so you can be contacted if you win.
And just to give you a little preview here, the big girl has had fun 'YouTubing' again.  I give you fair warning, these clips involve 5 year old singing and dancing.
The first is a selection of clips with the actions she made up, they show she is understanding a little bit!
And if you're game for a longer one this is the complete version of Wind Energy, her favourite.
Enjoy this article? Subscribe to the weekly newsletter to hear about them all.
Or grab my RSS feed