One of the people I follow on Twitter and have met around the blogosphere, Liz Ditz, has drawn my attention to the Science Scouts, or the Order of the Science Scouts of Exemplary Repute and Above Average Physique.  Just like the real thing, they have badges, and I qualify for the "I use Twitter to spread Science" badge for being able to condense science into 140 characters.  It's a long time since I've sewn on a badge, but it's on the sidebar and I'll be putting it on my Twitter page, which is the next project.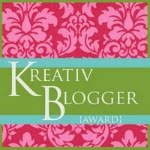 Secondly, an embarrassingly long time ago now, the lovely Kristine from Bilbified awarded me the Kreativ Blogger Award.  I was putting together the blog pages for this site at the time, so held off until now when it's finished.  The rules are:
Put the Logo on your sidebar, or within a post.
Pass the award on to 12 Bloggers.
Link the nominees within your post.
Let the nominees know they have received this award by commenting on their blog.
Share the love and link to the person from whom you received this award.
So I would like to pass on Kreativ Blogger Awards to:
So they're my blogs I visit when I want to laugh, think or learn.  Check them out too and support some great Mums.
Edited!: Oh No!  I don't know how, but I've made a mistake!  I was actually over at this blog leaving the link to tell her about the award when I checked the list and she's not on it!  How can this be? I love her writing.  The photos are amazing.  Her courage, patience and strength are inspirational.  And her children are just as incredible.  I need to give this award.  And you need to visit this blog.  Go.  Now.  Read.  Three Ring Circus.
Enjoy this article? Subscribe to the weekly newsletter to hear about them all.
Or grab my RSS feed