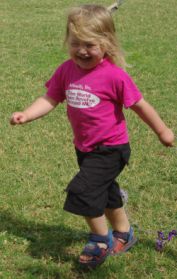 Bodies are our earliest toys and the one we always have with us. Playing games with our bodies is good for motor skills, brain wiring and learning. Touch is important for social and emotional health, plus it is the beginning of questioning and curiosity.
Rhymes with actions, all the way from round and round the garden to people in the church. They can be quiet games with your fingers, or big games that jump around and dance.
Pony rides – on a knee or on a back.
Dancing – the Wiggles weren't the first to discover that little kids love to dance.
Party tricks – such as paralysing your hand or making your arms float.
Scarecrow – a type of chasey where people who are caught stand with their arms and legs out and can be freed by another player crawling through their legs.
Marco Polo – 'It' is blindfolded and calls out Marco, the other players answer Polo.
Massage – lovely for all ages, including tiny babies, it's a great way to calm children before bed. They enjoy massaging adults just as much.
Clapping games – this takes a while to get the co-ordination working, but there are lots of patterns and songs to clap together. 
Leap frog – for little ones they can curl up and walk over each other rather than jumping, or use a cushion or toy until they get the idea.
Rolling downhill – this is what we used to do when Dad took us to the football as kids! A nice grassy hill provides hours of entertainment and dizzyness.
Running non-competitively – Most of us enjoy getting out and moving our bodies, that's how we're designed. Unfortunately sport becomes competitive at such an early age a lot of kids miss out on the fun and the fitness. Try to take the competition out, get your kids to run around and in different directions rather than against each other.
Tickles – Great fun, although as a ticklish person I'm very aware of not letting it go too far! It can be a good way for children to be able to learn about 'stop' and 'no,' and demonstrate that adults listen to those signals too.
Wrestling – tickling generally ends up as a wrestling match. Another way of testing limits and having fun, and learning to listen to other people and be careful of them.
The bare botty macker – This is a generational game for us. We're a non-corporal punishment household, but any botty sticking out is fair game to be macked.
Get the Thursday Thirteen code here!
The purpose of the meme is to get to know everyone who participates a little bit better every Thursday. Visiting fellow Thirteeners is encouraged! If you participate, leave the link to your Thirteen in others' comments. It's easy, and fun!
Trackbacks, pings, comment links accepted!
View More Thursday Thirteen Participants
Enjoy this article? Subscribe to the weekly newsletter to hear about them all.
Or grab my RSS feed