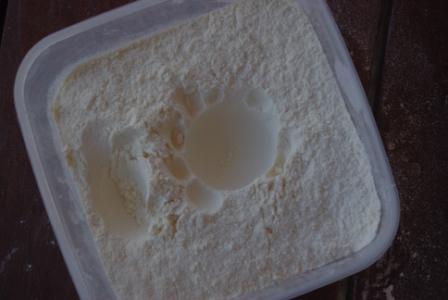 Or dropping marbles. Whichever sounds more exciting to your kids.
I'm rearranging things and putting  the activities on Thursdays rather than Fridays, there will be something completely new tomorrow.
This week was very simple – we half filled a plastic container with flour then dropped marbles and balls into it. It was lots of fun, the girls didn't spend a lot of time on it in one go but came back to it throughout the day.
Babies
Flour is another fun and safe texture for babies to play with. It is finer than most sands and drier than clay, even the big girl was picking it up and running it through her fingers. If they put it in their mouths it's not only safe but another new experience as they will feel it sucking in the water and getting gluggy.
For older babies, try hiding some small balls or objects and they can find them.
Toddlers and preschoolers
The little girl loved dropping a ball in then pushing it right down and burying it. Then she would look up and me and grin, saying "It's gone!" before pulling it back out like a magician. Think of it as a miniature sandpit.
Kids
The big girl got it. She dropped balls of different sizes. She compared dropping and throwing. She dropped balls that were the same size but different weights. She threw at an angle. She loved the beautiful smooth shapes. In other words, she tested and compared and tried to work out how to make different craters.
We didn't talk much about the moon, which is what I had in mind when we started. But we did talk a lot about size and weight and force. And we had a good time.
Enjoy this article? Subscribe to the weekly newsletter to hear about them all.
Or grab my RSS feed