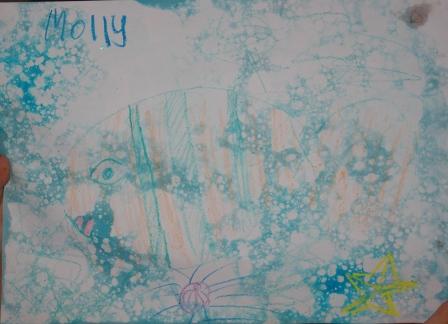 Some bottles of food colouring were an excellent investment of about $5.50, we're really cutting loose with them 😉 We've dyed eggs, used them for normal painting, marbling and now we've been bubble painting. In the last few weeks I've actually suggested it many times to have it flatly turned down, until a few days ago I just did it myself and they suddenly decided it looked ok. In fact now it's been promoted to 'this is the best fun evah!'
Bubble painting is extremely easy, you just need
a large flat container,
water,
detergent,
colouring,
a straw.
Put some water, food colouring and detergent in the container. You need quite a bit of colour.
Draw a picture with crayons on a piece of paper. We tried to match them up by drawing fish or clouds with blue or trees and caterpillars with green.
Use the straw to blow bubbles in the water. 
Carefully put the picture down on the bubbles and wait until you can see marks soaking through. 
Take it off to dry. It will probably have bubbles attached, this is good.
When we were doing it we discovered that bubble painting is the opposite of blowing bubbles. Here, foam is your friend. After blowing lots of big bubbles we swirled around with the straw to turn them into smaller foam, otherwise the picture ended up with lots of empty space.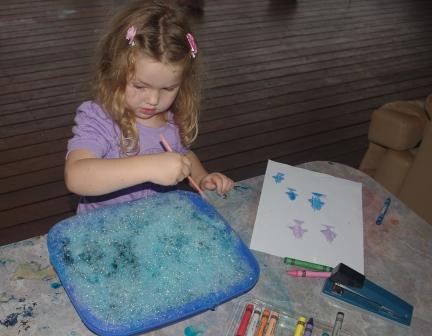 And of course this is blowing bubbles so we got to do the fun bubble stuff as well, like seeing how big we could get them.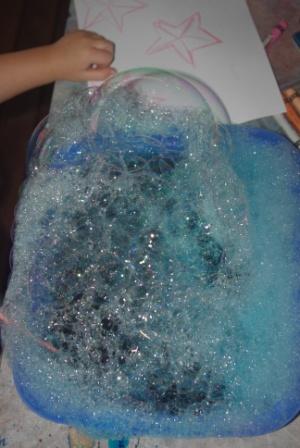 Some close looking before swirling the foam found all sorts of interesting things, including lots of pentagonal prism bubbles and even some that looked like cubes. We had a chat about whether the sides were flat and why they weren't like big round bubbles –
"They're pushing from both sides so it's flat in the middle."
Another quick, fun way to play with different liquids and see how they interact.
Enjoy this article? Subscribe to the weekly newsletter to hear about them all.
Or grab my RSS feed