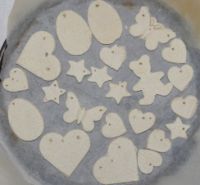 Some things are fixed, but there are lots of things little kids can do to change shapes as well.
Squeeze – playdough, water balloons, cornflour goo, sponges full of water ( or a fun painting project!)
Fold – paper for aeroplanes or origami, material for beds and clothes
Cut or tear – paper, ribbon, playdough with nice cutters, hole punches, biscuit dough
Stretch – elastic, balloons, clothes, chewing gum, blutac
Twist – ribbons and ties, coloured doughs, doll/robot arms and legs, plaiting hair
Bend – spoons, people, branches, dough, pipecleaners
Squash – balls, balloons, dough, soft toys, sponges, pom poms,
Fill – balloons, hot water bottles, bags, using air, water, rice, sand
Wrap – babies, presents, caterpillar cocoons, dragon eggs, food, treasures using paper, material, quilts, plastic
Scrunch – paper, ribbon, plastic, rubbish
Tie – hair, shoelaces, belts, bag straps, buckles, streamers
Glue – wood, paper, beads, glitter, cork, macaroni, rice, material
Thread – beads, shoelaces, twigs, leaves, grass, flowers,
Enjoy this article? Subscribe to the weekly newsletter to hear about them all.
Or grab my RSS feed