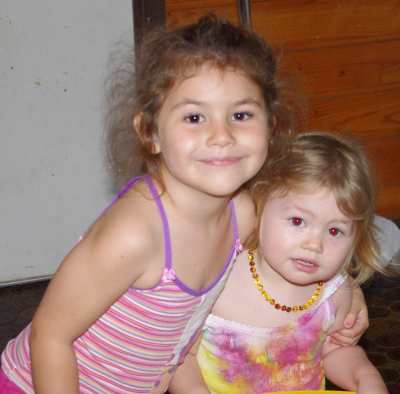 The girls love having
Yoghurt for breakfast, nothing like fermented milk to start the day.  We also go through a lot of homemade
Sparkling water with the Soda Stream, pushing the button to shoot the carbon dioxide into the water and make a bit of carbonic acid is almost as much fun as the bubbles.  Then we need to brush our teeth, they only use a smidgen of
Toothpaste, which contains sodium flouride and I've just discovered sodium hydroxide as well, which is a bleach (No, it's not.  I claim exhaustion, somehow I read that as hydrogen peroxide which is a bleach people use on teeth.  Sodium hydroxide is a corrosive base, it is used as a cleaner or to make soap, it might make the bubbles).  Most mornings we do a craft activity of some sort, usually involving
Poster paints which are actually a cheap form of the very distinguished tempera, ground pigment mixed with egg, water or glue.  The other big one we go through is
PVA glue, which is polyvinyl acetate.  The glue is actually an emulsion of PVA in water, the water evaporates and leaves the rubbery PVA to join things together.  Or we might cook,
Jelly is a big hit, especially when they get to dissolve it themselves and put it in the fridge for the gelatine to set.  You should never put fresh
Pineapple in jelly, it contains an enzyme that denatures (breaks apart) proteins, including gelatine, so it won't set.  They love getting outside, I have a black thumb but am learning to garden, I pull out weeds and let my husband deal with things like
Compost and fertiliser.  I tend to do the
Laundry in the morning so they can help hang it out, I have to use a non-enzyme washing powder and I always dissolve it first.  Did you know that makes a measurable difference to how well it washes?  I just put the powder in and let the machine start filling while I'm sorting the washing, then put the clothes in when it's dissolved.  We try to walk to pre-school when we can, but living in the desert and in the middle of the day we take the
Car more often than not.  It's fairly close so we don't use that much fuel, but I'm glad the weather is cooling down.  The big girl is very excited about learning to ride a real bike, we had one waiting for her so we've just pulled it out and bought new
Tyres because the rubber was perished and
Oiled the chain and brakes.  It's the little one's birthday today 😀 and she's getting the tricycle, I can see I'll be pushing her on that while the big girl rides to pre-school.  I'm getting dinner prepared while she's not here and the little one is (finally!) asleep, making one of their favourites
Marinated chicken sticks.  You can make a marinade out of all sorts of things, but it's important to have an acid in there – usually vinegar or lemon juice.  It starts to break down the meat and tenderises it, it makes some of the same changes as cooking.
And that's just a part of our day!  What sort of natural and synthetic chemicals do you encounter every day?
The purpose of the meme is to get to know everyone who participates a little bit better every Thursday. Visiting fellow Thirteeners is encouraged! If you participate, leave the link to your Thirteen in others' comments. It's easy, and fun!
Trackbacks, pings, comment links accepted!
View More Thursday Thirteen Participants
Enjoy this article? Subscribe to the weekly newsletter to hear about them all.
Or grab my RSS feed