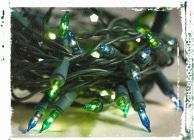 I was going to go from the archives today but I've been reminded that this week's Sharing Christmas at Adventures With Kids is about Christmas traditions, and seeing we've just set up Christmas lights with the little girls I'm feeling all nostalgic.  We had many Christmas traditions, when we were little it was a special family dinner on Christmas Eve then a long walk singing carols with my father's unique singing and words.  When we were older it became a champagne breakfast of fruit, croissants and scrambled eggs while we opened presents, then down to the river for a picnic with the extended family.
One of my favourite parts of the buildup to Christmas was when we were at school.  We would go on holidays a few days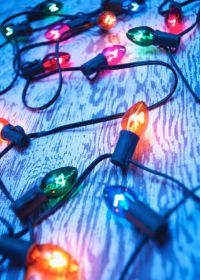 before Mum and the three of us would drag out the decorations and tree and put them up together.  My job was always to get the lights working, back in the day when christmas lights were a single loop connected in series (see?  Science).  This meant if a globe blew it broke the circuit and the whole lot wouldn't work.  I would laboriously check them all to find the duds and try to get a working circuit.  We often ran out of globes but of course as kids we couldn't go to the shops and we didn't want to wait to put everything up.  So being an enterprising sort I'm horrified now to admit that I often used to 'fix' them with a rolled up ball of alfoil in the socket.  Hey it's a metal, it'll conduct electricity.  What more do you need?  It's a wonder I didn't blow us up or set fire to the tree.
This is our first Christmas at home since having the girls and they are really enjoying the lights, we've been driving around in the evening checking them out.  The big girl desperately wanted some but we only have a couple of boring strands, packed somewhere in the middle of the gear we're moving.  We mentioned at a barbecue that we needed to find them for her and had an offer of going through someone's shed, and boy have lights changed.

So this afternoon as we were setting up a Father Christmas in a sleigh, one climbing the chimney, a 'Merry Christmas' and a couple of light nets over the barbed wire fence I was both sad and relieved.  Because these days lights are far more sophisticated and complex arrangements that are wired in parallel, and if a globe blows it doesn't take out the lot but only leaves a gap.  It's sad that my girls will never feel the sense of accomplishment I remember when I got the single strand to work and we wrapped it around the tree, but seeing our house is mostly wood and I prefer my children with all their body parts intact that's probably a good thing.
I'm looking forward to creating new and safer traditions with my girls.
Enjoy this article? Subscribe to the weekly newsletter to hear about them all.
Or grab my RSS feed