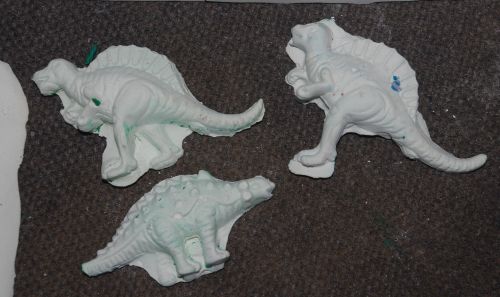 This is the second in my series of Christmas Presents For or From Science Geeks posts.  The first was about Bath Bombs. These fossils have many variations, they are aimed at children and little ones will need help.  My 2 year old was actively involved.

If you are interested in doing something like this it's definitely not a last minute option, it's taken us several goes to try different things out and let them all dry.  So my recommendation for a present would actually be a kit, either a commercial one or put together some plaster, plasticine and models.
The girls are fascinated by fossils including footprints, so we've been doing lots of different things based around plaster of paris.  I won't talk about all of them in detail here, some of them I'll save for later posts.  But so far we've:
Put toys  in plaster to dig out – unsuccessful, the plaster was too hard.  We'll try it again with playdough.
Buried 'bones' in hardened mud to excavate later.
Made model dinosaurs.
Cast a mud footprint.
Made handprints in plaster.
Made miniature dinosaur trackways.
Most of the things we've been using are from around the house or hardware store, they are not all necessary but they make it easier:
Plaster of Paris, picked up at the local hardware shop.
Vaseline, learnt when modelling for my sister many moons ago.  Anything you don't want stuck to the plaster, use copious quantities of vaseline!
Plasticine from our art/craft supplies.
Lots of different plastic containers, including the trusty silicone cupcake moulds.
Powder paint, which I found at the newsagent while searching for plaster.
Little things to make models of, we just so happen to have some little dinosaurs.
Gloves
Scales
Measures for water and powder
There are very simple directions for making up the plaster, the only thing we did differently was add some powder paint, but leaving it white means you have the option of painting it afterwards.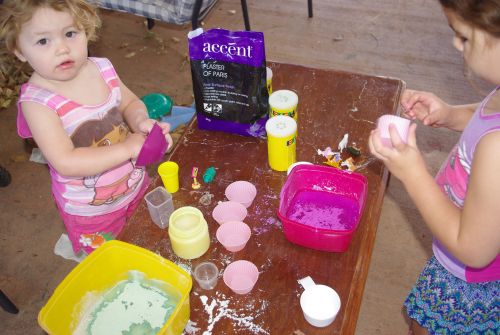 To make little models, flatten out a lump of plasticine and press your original into it.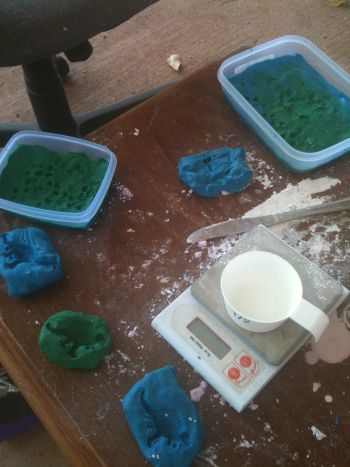 The plasticine itself will be fine because it is oily, but we coated the plastic containers with vaseline to be safe.  Press the plasticine around your original and make sure it is a close fit, and make sure there is a raised edge to stop the plaster flowing out.  We had a great time making the trackways, telling stories about the little dinosaurs walking across the mud, falling over or being chased by the tyrannosaur.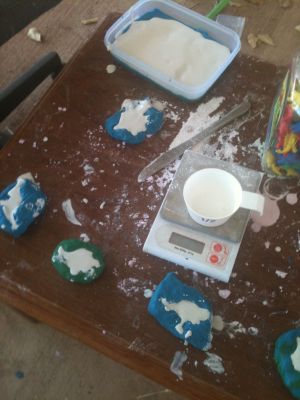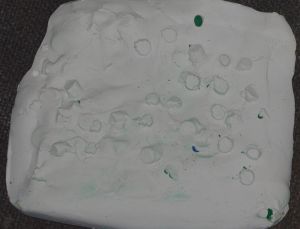 We'll probably paint this trackway to make it more obvious, but you can see very detailed footprints and identify the paths.  The dinosaurs up the top need to be cleaned up a bit then we'll paint them.
A homemade modelling kit is a fantastic Christmas present – tailored to your child's interests, something to do during the holidays, combines imaginative and practical play, and when it's done you still have the models and plasticine to play with. This post is part of the We Play linkup at Childhood 101 and the Carnival of Messy Play.
Enjoy this article? Subscribe to the weekly newsletter to hear about them all.
Or grab my RSS feed