This is the fourth in my Christmas Presents for or from Science Geeks series, the previous ones can be found here.
Both of my girls received windchimes for their first Christmas presents, we spend a lot of time outside and there's nothing as lovely or guaranteed to catch a baby's attention as windchimes.  Depending on how you decorate it you can have bright colours, movement and sound, which are all very interesting for babies, plus if you make it sturdy you can hang it where they can reach and play with it.  The girls spent hours tapping and playing with simple windchimes when they were learning to roll and use their hands.
Windchimes were also the very first present the big girl made for her Grandmothers when she was two, helping make salt dough, cut it out then paint it.  This year we're revisiting the dough (below), but also experimenting with different materials around the house.  Because just about anything can make a lovely windchime, to watch, hear and give with love.
Windchimes can be as simple or as complicated as you want.  We've made these as a family collaboration, the girls couldn't have done them on their own but they've helped make decisions and done the bits they can.  It's up to you and how independent your children are to decide how complicated to get.  We used a very basic pattern of a long stick to hang things from with bead thread, you can also use light fishing line or any strong thread.  Allow lots of time – they can be quite repetitive and fiddly, it's worked best for us to do a little at a time and we're still working on them.  Just keep in mind where it is going to end up and how windy it will be – shorter strings don't tangle as much.
Branches,
Covered coat hangers,
Wooden spoon handle,
Make a round one from salt dough and pierce holes around the edge,
Make a large wire ring and decorate,
Plastic saucer from a teaset,
Large tin lid, such as a Milo tin.  Use a nail to put holes around the edge.
Suggested hangers – we've had lots of fun comparing the different sounds from our different hangers (wood, metal, dough).
Large beads,
Old wooden jigsaw pieces,
Slices of a tree branch, sanded and rubbed with vegetable oil,
Cutlery,
Salt dough rolled out then cut with biscuit cutters (above),
Decorated jar lids,
Small bells.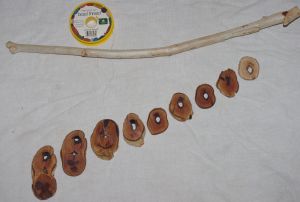 These are thin slices from a gum branch, with the end of the branch as the hanger.  They've been sanded and the big girl oiled them, the one on the right is natural to show the difference.  The holes are natural.
Variations –
Hang around, along or vertically.
Have different lengths of string, either randomly or to make a pattern.
Add beads.
Use wire or pipecleaners to decorate the hanger.
Wrap beading wire around to hold things like glass, stones or crystals.
Hang more than one thing on a string.
Add bright ribbons or feathers.
Thread bits of straws or macaroni.
Try hanging long sticks vertically from short threads for a good one that won't get tangled.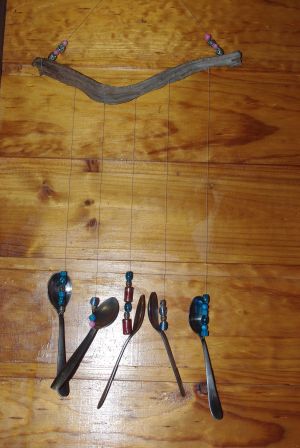 We polished the spoons and hung them, the big girl could thread the beads herself and used patterns, I threaded one for the little girl with the beads she chose.  I'm going to have to shorten the strings, they keep getting tangled.
These are a personal present, for someone who will appreciate the homemade effort.  Or they are fabulous for little ones to hang inside or out a bedroom window.  I think these will end up on our new deck in the girls' play area.
Enjoy this article? Subscribe to the weekly newsletter to hear about them all.
Or grab my RSS feed