Little ones will love the collecting leaves bit, but expect them to lose interest very early in the keys.  It's still a great activity for them because it gets them to really look at things closely and is very language rich. Dichotomous keys are a very useful classifying tool to know, plus I love the name – say it out loud, die-KOT-o-mous key.
My girls race all over the yard getting leaves then comparing them.  The idea of a dichotomous key is to use a rule to split things into two groups, then keep splitting the groups until you only have one thing in it.  You end up with a good description, and later if you use the right rules it can help you learn about relationships between plants, or how rocks have formed, or what reactions a chemical is likely to make.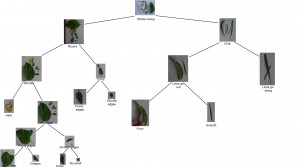 Right click on the picture and open it in a new window to be able to see the one we made of leaves.  Big girl got the idea pretty easily, but lost interest after a few splits.
For babies you are aiming to get them to play with different leaves, especially feeling them – be very careful what they are!
For older babies you can introduce lots of nice descriptive words – long, short, rough, smooth, soft, big, small.
Toddlers should be able to sort into groups, for example the first split on this key is into 'Round' and 'Long' groups and big girl sorted them for herself.
Pre-schoolers can start to work out their own rules for splitting.  This is harder than it sounds – it's quite an abstract idea to make up a rule and then apply it, especially if it has to be something that will work for all the things in the group.  The big girl managed to come up with several on her own – things like long/round, furry/smooth and she noticed the veins were different between the grass and other leaves.
Older kids can do a full dichotomous key.  You can see here the groups don't have to be balanced, but the idea is to keep splitting into two.  The grass stems are quite different to other leaves, they can be described quickly as long with veins that run along the leaves.  The mulberry leaf, on the other hand, is round, smooth, soft with pointy edges and came from a tree or the basil is round, smooth, soft with smooth edges and smells.
A big sheet of paper you can write on and sort the leaves on top of makes it easy to remember what your rule is.
You can use the same rule with different groups – we used the 'furry/smooth' rule twice.
You can use a dichotomous key to sort absolutely anything – rocks, soft toys, TV shows, people in a family, … Learning to discover and apply a rule is an extremely useful skill.
Enjoy this article? Subscribe to the weekly newsletter to hear about them all.
Or grab my RSS feed