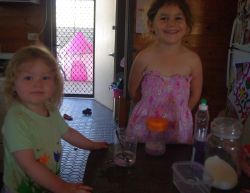 Tragedy struck last weekend, we were out of bubble mix.  And what is a science-y family to do when that happens?  That's right, we didn't just make our own, we made two different versions and compared them.
I love this bubble mix recipe because it is so simple even the 2 year old can make it on her own.  That simple.
Materials
7 parts water
3 parts detergent
1 part sugar or glycerin.  This stops the bubbles from drying out and popping too quickly, incidentally bubbles work better when the humidity is high for the same reason.
Method
The beauty of the 'parts' recipe is that it doesn't matter what size measure you use, so long as you just use one.  So I gave the girls a container and a spoon each and off we went.  I like using containers with high sides when they are mixing to keep everything in there!
Measure out the water, I got them to scoop it out of a container.
Measure in the sugar and stir to dissolve it.
Measure in the detergent and very gently mix it in.  Foam is the enemy of blowing bubbles, it stops it making a nice film on your blower.  This is where we tried something different – we put 5 parts of detergent into the little girl's solution rather than 3.
Go outside and test them!
Results
It wasn't quite as easy as the commercial bubbles, but cleaned up better which is a big plus.  The original recipe (I feel like I'm selling chicken) made lots of small or medium sized bubbles, and quite a few were double or triple bubbles which the girls were thrilled about.  The recipe with more detergent in it tended to blow larger bubbles for the same size blower, in fact we got some very big ones out of it!
It was a good exercise to try to get the big girl to describe the bubbles.  She happily said they were different, but when pushed she kept telling me it was because of the different recipes, giving me a why rather than a how.  So I used some ridiculous questions like  'Are they square?' and she got the idea of describing them a bit better, and eventually told me about the size difference.  It was a good reminder to me that just because I can see a difference easily doesn't mean little kids will – they need to explicitly talk things through to learn about comparison, which is actually quite a complex skill.
Other Ideas
Try fiddling around with the recipe in other ways – different amounts of sugar or water or even leaving something out completely.  Or try comparing a brand new batch with one that has aged.
Use bubbles to see the wind.
Pretend you live inside a bubble and imagine what you would see and what you would do when it pops!
Test different styles of bubble blowers.  For beginner blowers I find the ones you actually put in your mouth and blow through the easiest, they don't have to try to aim!  And the big ones you can wave rather than blowing are a completely different technique for them to try.
Blow bubbles around babies for them to watch and try to catch.
This post is part of the We Play linkup at Childhood 101.  Have a look for other great play ideas.
Enjoy this article? Subscribe to the weekly newsletter to hear about them all.
Or grab my RSS feed