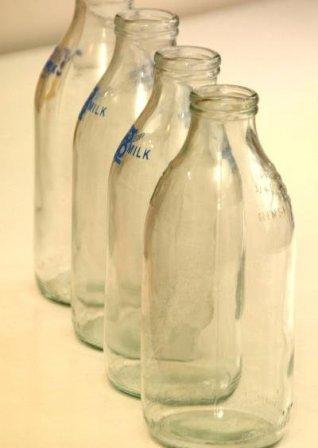 In my lifetime it's gone through a lot of changes, it's interesting to consider why. Obviously technology has had a lot to do with it, but social changes have also been part of it.
What does a milk container have to do?
Be watertight.
Allow pouring.
Allow mass production and transport.
Protect the milk.
Glass
Glass bottles have been produced for hundreds of years, they are chemically simple to make but take a lot of energy. Their advantage is that they are easy to clean and re-use if they are kept carefully. In the past when there was little refrigeration or private car ownership many food producers made daily deliveries. Milk companies could pick up the empty bottles on the same round so they could be washed and re-used.
With family cars and refrigeration, people started using supermarkets and buying enough to last several days. This made delivery services too expensive to compete, and made it more difficult to retrieve glass bottles. If they aren't being re-used many times, glass bottles are too expensive and need too much energy to compare with other types of packaging.
Coated Card
Plastic coated card is simple to use for containers and easy to transport and pack. It's light and doesn't take up much space in landfill, however it can only be used once because it cannot be cleaned and re-sealed. In Australia this usually means it is used in smaller milk containers intended for individual serves.
The plastic used is petroleum based low-density polyethylene and is non-biodegradeable. They are relatively difficult to recycle, however it is becoming more common. They are soaked to separate the plastic and paper fibres. The fibres go to produce recycled paper, while the plastic is extruded into high density plastic that can be used in crates or building products.
Plastic Bottles
Plastic milk bottles have many advantages. Because they are moulded they have handles to make pouring easy and they can be re-sealed, making them practical for keeping larger amounts. They are generally made out of high-density polyethylene, and while they are only used once they are relatively easy and common to recycle.
Since milk has been kept longer it's been discovered that UV light affects the flavour. This is why most milk cartons that are for products kept in glass fronted fridges, such as flavoured milks, are not see through. Milk that is kept in a household fridge can be in see through bottles because they are generally dark.
Packaging
All the different materials used have fulfilled the basic needs of keeping and delivering milk. However at different times the way we use milk and disposal preferences have changed, making a difference to expenses and changing the best material to use.
Have a look around your house at the different types of packaging. Can you work out why that material is used? Has it changed?
Enjoy this article? Subscribe to the weekly newsletter to hear about them all.
Or grab my RSS feed