In the brief weeks between freezing and pouring, I thought we'd try a solar oven. I've made them before with mixed success so I wanted to see if I could modify them for little ones, and there isn't going to be a better place to do it than central Australia in hot weather.
In the past I've made them at schools where there is nice acetate or perspex available for the cover. I had a good box set to go and was looking around for something to use as a cover and finally decided on the lid of a plastic kitchen container. At which point I realised I could just use the box for the whole thing! No messing around with sticky tape or making things fit, just use the ready made sealable box.
So here are all the materials you need for my small-child-friendly solar oven.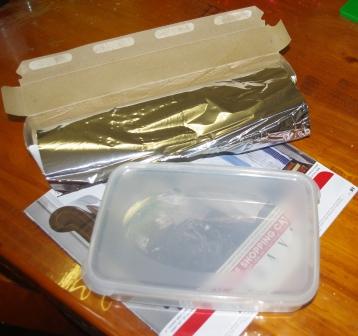 Method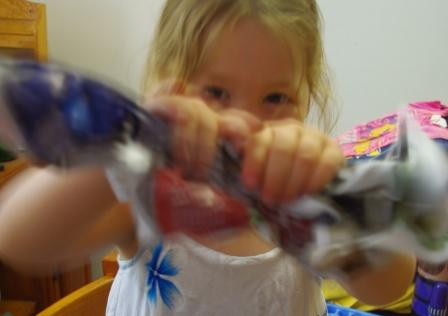 Scrunch up the paper and put it around the outside of the box. This does two things – reduce the space and therefore the amount of air you need to heat, which will make it heat up quicker, and act as insulation to stop you losing heat out the sides of the box.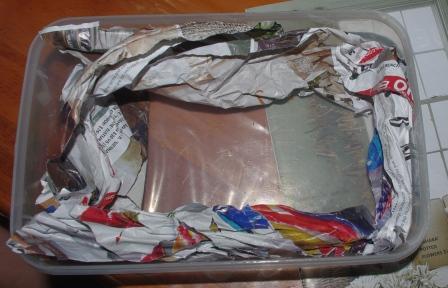 Line the box with alfoil to act as a reflector and help bounce the energy around inside the box. The more it is bounced around, the more of it turns to infra-red heat energy and hits the food to cook it.

Put your food in and put the clear plastic lid on, make sure it seals well so you don't let the hot air escape.
Put it outside facing the sun like in the top photo. We used a rock to prop it up towards the sun, it depends on the angle. Then we went out for about half an hour 🙂 The time you need will depend on your sun.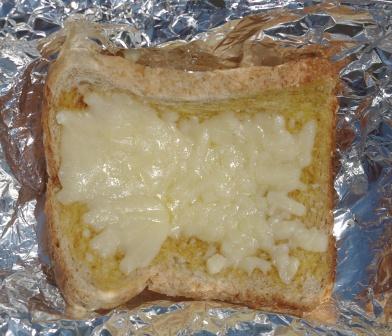 And voila. There was a lot of moisture on the lid so we had to open it and see, usually it's a bad idea to open when it's cooking because it lets the heat out and you have to start again.
I've cooked things like cheese on toast, mini-pizzas, nachos and melted marshmallows and chocolate in simple solar ovens.  For anything more ambitious, make sure you have lots of sun and lots of time or a more complicated design. But as something little kids can do and taste a result, this is about as simple and successful as it gets. Have fun 😀
Enjoy this article? Subscribe to the weekly newsletter to hear about them all.
Or grab my RSS feed