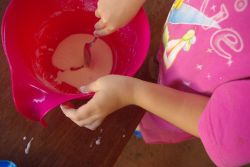 This probably wins as the simplest chemistry experiment you can do with little kids.  And the most fun!  Cornflour goo with real corn is amazing stuff, just add water for strange things to happen.  Make sure it isn't wheaten cornflour, White Wings makes a corn cornflour.
Start with some cornflour in a bowl, add a tiny bit of water and mix.  Be careful, it's a bit like icing sugar – add about half the water you think you'll need!  Having trouble?  While you're mixing it's all hard, but when you pick some up it melts on the spoon?  Try some other things: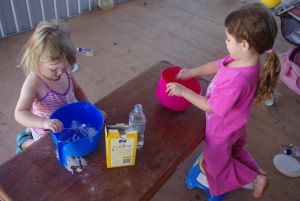 Punch it
Run your fingers through it slowly
Run your fingers through it quickly
Drip it off the spoon
Flick the spoon
Stir quickly
Squeeze some in your hand
Hold your hand flat and let it drip off
Basically if you get the mixture right, when you do something quickly it will act as a solid, when you do something slowly it will act as a liquid.  Running your fingers through it is very strange, you can feel the gluey or plasticky lumps, but when you try lifting it you can only see liquid.  Even better, it dries quickly and can be stored, when you want to play again just add more water.
It is safe for all ages – it's just cornflour and water – and even babies and little ones can get in there with their fingers and have a ball.
What's happening?
Most mixtures we deal with every day are called stir-thinning, which means they get thinner and easier to mix the more you stir them.  Think about cake mix – it starts fairly stiff but becomes more liquid.  In most of these liquids the tiny bits that make them up are smooth and rub past each other, something like this: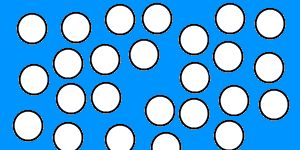 Some mixtures like cornflour are stir thickening – as you stir them quickly they get thicker and stiffer, but stir them slowly and they are runny.  They are also called non-Newtonian fluids.  Sand is another stir thickening mixture, think about standing in the sand at the beach.  As you stamp down on it the square sand particles lock together and force the water out making it dryer and stiffer: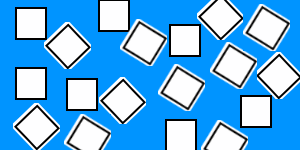 But when you stir it slowly the particles have time to settle and move easily: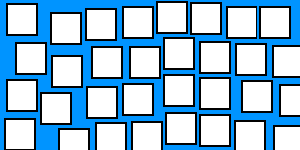 More?
There are lots of fun YouTube clips of people running across pools of cornstarch, here is just one from Mythbusters.

Definitely have fun with this one!
Enjoy this article? Subscribe to the weekly newsletter to hear about them all.
Or grab my RSS feed