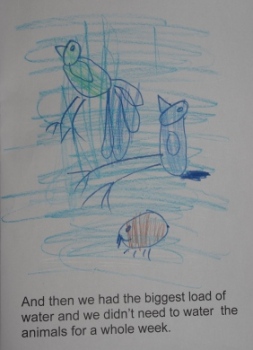 Both the girls love being read to, and big girl is reading. Of course this means little girl needs to as well, she's at the stage where she can identify pictures and follow a pattern to 'read' to us and thinks it's the best thing ever. She's also starting to draw recognisably and loves making or colouring pictures, so making our own books was an obvious activity.
Our days depend heavily on the weather, especially things like when we can go outside and thinking of things to do in the air conditioning. So I thought I'd combine them and we could make some books about weather.
The Animals Need More Water
Big girl's book may have started with weather but quickly took off on a tangent. We talked about who the characters could be which got back to us pretty quickly, and some of the things we do every day, she chose looking after our animals. Then we needed a problem to solve, so it was a story not just a recount of our day. At that point she got the hang of it and came up with a nice little story about frogs in the water pipes.
It was build-up, and the animals needed more water. All the chickens, guinea pigs, and budgies were very thirsty.

Mummy turned on the tap but no water came out.

Then we heard a frog croak-croak in the pipe. How were we going to get it out?

It started raining and the frog got washed out. Dad caught it in a box and gave it to the chickens …

And then we had the biggest load of water and we didn't need to water the animals for a whole week.
She loves writing and working on the computer, she managed to type a surprising amount herself either because she knows the sight words or because she sounded them and worked them out.
Jewel's Baby Chicks
For the little girl, we used Publisher and the 4-page program template with our own photos. We have the cutest little baby bantams (which may be superseded by ducklings by the time this is published) and she came up with three sentences to match the photos then 'read' it back to me.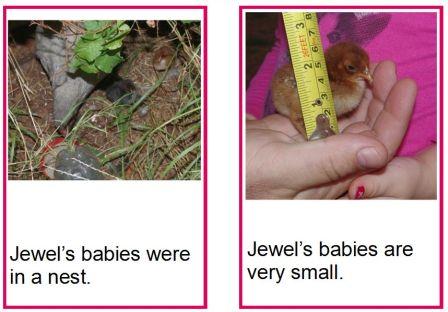 After the Rain
Back with my original weather idea, I took advantage of a big rain storm to snap lots of photos. We came up with sentences like 'The guinea pigs were all fluffed up.'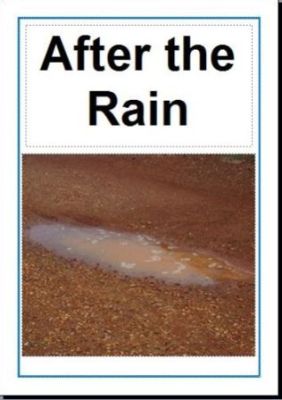 In a very short time we had three simple, appropriate books on the topics they are interested in and knowledgeable about. They got all the fun of making them, tromping around getting photos, using the computer, making up stories and drawing, then get the thrill of reading them back to us. Definitely something to try.
Have you made your own books? What topics did you use?
Enjoy this article? Subscribe to the weekly newsletter to hear about them all.
Or grab my RSS feed