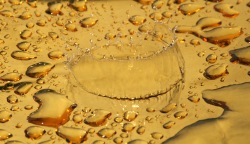 This is not a repeat of the long-running prank but I couldn't resist.  Dihydrogen Monoxide or DHMO is the sciencey tongue in cheek name for water, which is a molecule with two hydrogens bonded to an oxygen atom.  So with that out of the way, on with the post.
Water is, of course, essential for life.  Yes your body is about 70% water but this absolutely does not mean there is any affinity with the moon, full or otherwise.  Even the ocean's only affinity with the moon is via gravity, tides are just the moon pulling the water up towards it (which is actually way cooler than mystical hand-waving).  It pulls the land as well, but land tides are much less noticeable without sensitive measurements that needed modern instruments.  The full moon does affect various animals but that's because of the light, not water.
And you can stop feeling guilty because you don't really need 8 glasses a day.  Seriously, check it out on Snopes.  (And if you haven't discovered Snopes before, enjoy!)  It's all about balancing what goes in and out.  Water goes out through urine, sweat, faeces (more than half water), breathing and tears.  You can drink it, but you get a lot of it through your food as well.  Nursing mothers also use about a litre a day in breastmilk, so that's one area where drinking does become important.  Other than that, how much you need will depend on your circumstances – we're definitely in the hot and sweaty season so we're going through many litres a day!
One of the signs of dehydration is a headache, the amount of fluid surrounding your brain decreases slightly and affects the linings and nerves.  So the first step for dealing with headaches should be drinking water to see if that helps.
Ideas to get little kids to drink water:
Our soda stream would have to be our best ever purchase.  Unlimited fun sparkly water for a bottle of gas every couple of months.  But check they like the taste of soda water first.
Iceblocks, especially with a bit of fruit or a mint leaf in them.
Food colouring.  Personally I think the purple looks revolting but the girls like drinking it.
A squeeze of fruit juice.
Fun bottles and cups.
Tea parties.
Herbal teas made with a few fresh leaves.  Some are nice chilled.
Do you have a favourite way to drink your water?
Enjoy this article? Subscribe to the weekly newsletter to hear about them all.
Or grab my RSS feed