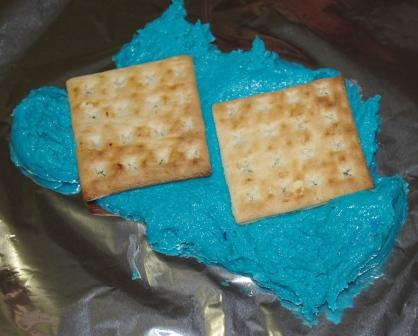 I've had this activity on my schedule for quite a while so even though the timing's a bit weird, it was already set to go.
This activity is seriously not for people with diabetes. You need something that's relatively firm and can take pressure, but at the same time allow movement. Thick icing turns out to be perfect. I attempted it with creamed rice and it was too runny, jelly would only work if you are very gentle, which I really can't see happening with little kids. A thick custard like in a vanilla slice would probably work, unfortunately my kids flatly refuse custard. So bright blue icing it was!
The idea is to demonstrate how tectonic plates move on the mantle using biscuits and icing. Yum. The girls were more interested in playing and seeing what they could do, we didn't go into it more than 'the ground moves.' But for older kids it's a great model.
The icing represents the mantle. This is rock that is hot enough that it isn't completely rigid, but it isn't liquid – it's still rock.  You wouldn't really notice it moving, we're talking a rate of millimetres per year, but over the time the earth's been here that's a very long way.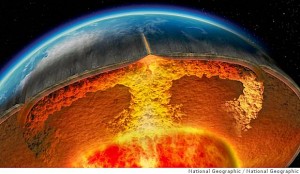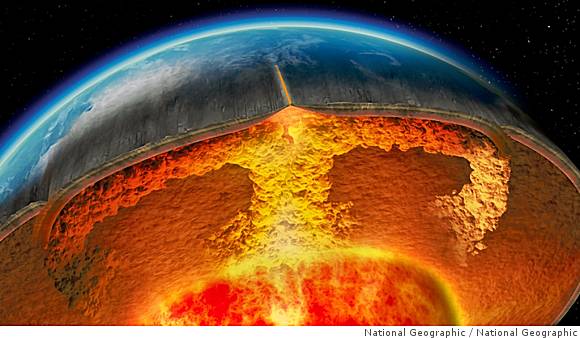 The biscuits are the continents on the crust that floats on top of the mantle. You need something relatively thin, Salada biscuits would be perfect if they weren't covered in salt. (I'm assuming at least some of this activity will be eaten afterwards. If not, feel free to mix your salt and sugar.) Apparently Graham crackers in the US are similar but sweet so use those, we ended up with Lattice biscuits because they were the thinnest non-salty biscuits I could find. Big is also good so they are easy to manipulate, this isn't an activity for two fingers.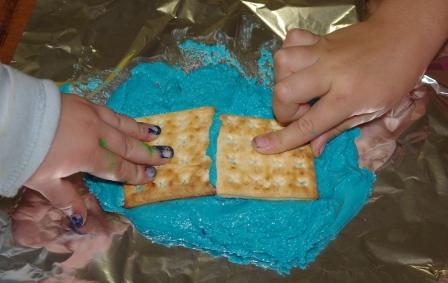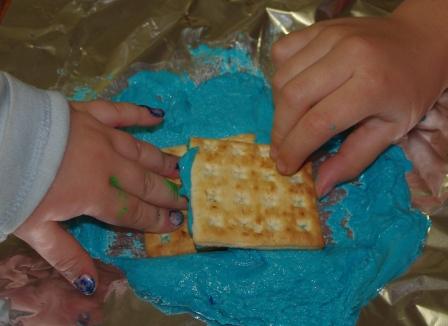 Both girls demonstrating subduction, when two plates are pushing against each other and one slides over the top.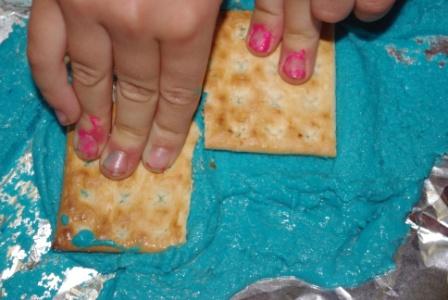 This is a transverse fault, where two plates are sliding sideways along each other. I cut the edge of the biscuits to get this to work, otherwise they were too smooth. The rough edges model it much better, they get caught then suddenly slip the same way tectonic plates do.
Then the girls had fun playing. They didn't really eat all that much – that much bright blue icing is a bit daunting! But they did use it a bit like playdough, scooping it up with the biscuits and building little sculptures.
For a once in a while activity they had fun playing and learnt a little about how things move.
Enjoy this article? Subscribe to the weekly newsletter to hear about them all.
Or grab my RSS feed