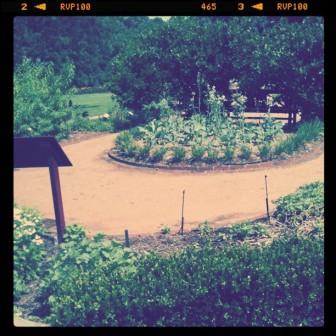 Some people seem to have the erroneous impression that I'm good with plants. This is probably because of the number of plant projects I start, but trust me they don't last. The peas and terrarium sprouted but didn't survive transplanting. One of the peas went mouldy. The seedlings in egg cartons were blown away in a near-cyclonic gale. The lettuce tree was grown by my husband, and the reason it got so big was because they were too bitter to eat. So plants and I don't really mix all that well.
However I do have an enduring wish for a herb garden, and the big girl is loving some of the things they've sprouted at school or guides. The herb garden pictured above is part of the Sydney Botanic Gardens and I was a bit inspired, so we had another go. Thanks to the chickens and chance of torrential rain (or near-cyclonic gales) we didn't plant directly into the garden but up on the deck. And we planted into eggshells. They make perfect little one-seed pots, they are relatively porous but won't leak everywhere, and they can be planted directly into the garden when you're ready – the roots can break through.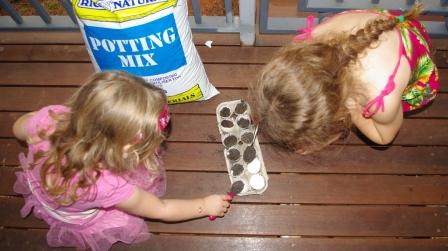 The girls putting soil into the shells with our favourite gardening tool – the teaspoon. While they love their other gardening shovels, hoes and rakes, teaspoons are definitely the best for anything you want to survive the experience.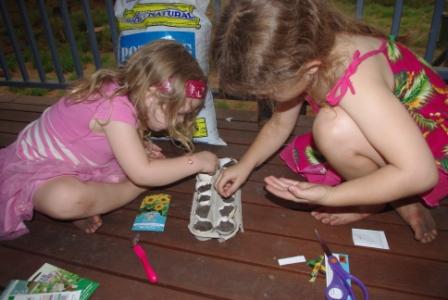 Putting the seeds onto the potting mix, ready to cover them.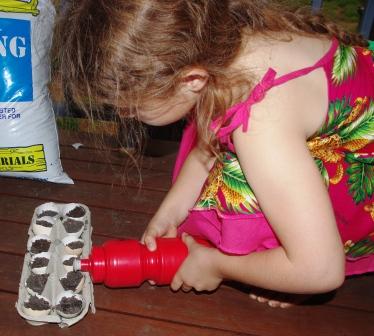 And watering, something we've been remembering to do daily while waiting for them to sprout.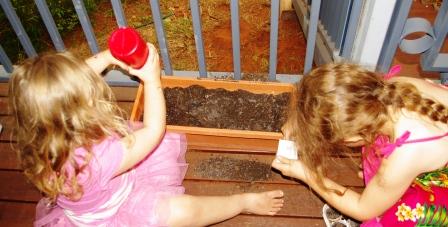 And seeing we had one, we filled a planter as well.
The girls have promised me they are remembering to water them every day while I'm away, but nothing has sprouted yet. I will do an update, hopefully with good news 🙂
Enjoy this article? Subscribe to the weekly newsletter to hear about them all.
Or grab my RSS feed