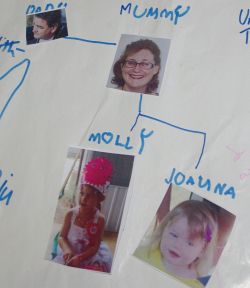 Welcome to the October Teach/Learn Blogging Carnival.
The Teach/Learn Blogging Carnival hosted by Science@home is for anyone, because we are all teachers and learners all the time. This month our theme is "Studies of Society and the Environment" which covers all the humanities, from history to finance, geography, politics and of course the environment. Check out the links at the bottom to find some other great posts on SOSE.
***
There's a lot of overlap between SOSE and Science, in my original science degree one of my majors was Archaeology and in schools the science and SOSE departments negotiate very carefully over when and how they are doing things like volcanoes, earthquakes and ecology.  I could wax all philosophical here about the different approaches but that would get boring unless you happen to be in one of those fields.  Along with the archaeology I was studying palaeontology and evolutionary biology, so I thought this would be a good chance to explore some of the branches of science that don't fit neatly into the normal perception of 'the scientific method,' especially the historical sciences.
One thing all these areas have in common is looking for similarities and relationships, especially over time.  In biology and palaeontology you are studying the broadest scale – evolution and the tree of life itself.  In something like archaeology or anthropology you might be looking for relationships between groups of people, or how cultures have evolved and influenced each other.  Politics tries to predict how groups interact and how they will behave, and as you move into subjects like history you may be investigating individual family trees.  Seeing it's good to start with something kids are already familiar with, family trees it is.
First we had a ball going through all the photos and choosing ones of their immediate family to print, then the big girl carefully cut them all out.  We spent some some comparing and sorting them:
Co-incidentally, all the photos easily went into pairs.  Next we talked about ways the pairs could go together in larger groups, and they put together their own sister pair with their brothers.  Starting with them, we moved the pairs around until they were near the other pairs they had ties to.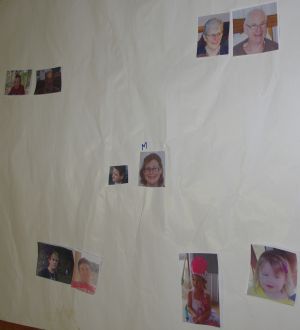 And the final step is to draw the lines and names in.  The big girl actually handled a lot of the writing herself, while the little one enthusiastically drew.
After that we added the rest of their close relatives to show how they fitted into our family, and the little one got her moment when she glued it all together.
So there you have a simple activity that we are all fascinated by, but it practices the principles of comparing, sorting, and defining relationships that are used in so many different fields. This post is part of the Play Academy linkup at the Nurture Store.
***
Visit Science@home to find out more about the Teach/Learn Blogging Carnival.
Please take the time to visit the other participants and check out their posts on "Studies of Society and the Environment."
Thanks for visiting our carnival, have fun reading all the posts.
Enjoy this article? Subscribe to the weekly newsletter to hear about them all.
Or grab my RSS feed