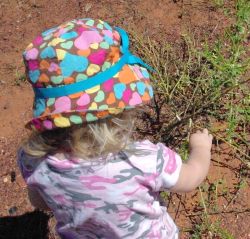 Today is Earth Day, and while we're not doing any official activities it's a day to reflect on the earth and our impact. We all know about carbon dioxide, and we all know this isn't the only problem. But a general feeling of gloom and doom doesn't help us to work out what we can do about it and whether we are helping or hindering. A good way of looking at it is through the idea of planetary boundaries that has recently been developed. In this model there are nine large scale environmental boundaries, crossing them may trigger abrupt and catastrophic environmental change. The buildup of carbon dioxide is one of them, but there are two other boundaries that have already been crossed – the nitrogen cycle has been disrupted and there is extreme biodiversity loss. We are in the middle of the planet's sixth mass extinction.
I should point out that these problems are not going to damage the earth. It's been through all of this before and will go through more. And as far as nature is concerned, well there have been at least five previous mass extinctions, life will come back. What it does mean, what all the various environmental problems we talk about mean, is that life will become very uncomfortable, perhaps even impossible, for us. This is not the earth's problem or the environment's problem, this is our grandchildren's problem. But our grandchildren will not be able to solve it if we have pushed passed the tipping points.
So the trick is not to talk about the earth or the environment, it's about asking every single person – how does this affect you, personally? What will you miss? I thought for Earth Day I'd look at biodiversity, because that is something we can all relate to in a way it's difficult to relate to atmospheric nitrogen.
Biodiversity
Biodiversity is very simple – it just means how many different species there are around us. It turns out that 'everything in moderation' is as good for the environment as it is for food or life, and many different species will ensure that you have strong networks with lots of redundancy. This means there are lots of sources of nutrients and energy, so if there is a local change or extinction the rest of the ecosystem can still continue.
And it turns out that investigating everything around them is something little kids do all. the. time. Your toddlers will know far more about what sort of insects you have than you do! We've been living here since Christmas, and admittedly it's been a trifle soggy, but we have finally started exploring around us in detail. All of this is within a few metres, but instead of a quick glance and thinking 'plants' we found all sorts of interesting things.
Field Journal
Little ones just love a chance to get out and look at things, but the big girl is so into books right now! Making her own is her ultimate thrill so we have started a field journal. There are lots of ways of doing this, a little book you can record in as you go is great for older ones, but we snapped lots of pictures while we were out there, chose the best and printed them.
All good field journals need to give some details of when and where, so we have the date up the top. Then she's labelled the different types of rocks we have, the white chunky quartz and the brown flat rocks. Our current project is to identify them. All these photos are stuck up on the wall right now, but when we are ready for a new lot they can be slipped into a folder to give us a record of both our property and big girl's development.
Make it your Earth Day activity – go outside and see how many things there are around you. Were you surprised at what you found? This post is part of the We Play linkup at Childhood 101.
Enjoy this article? Subscribe to the weekly newsletter to hear about them all.
Or grab my RSS feed