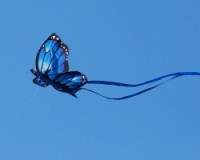 Almost everyone likes the feeling of swooping through the air, especially little babies and kids.  You may not be supposed to throw them up in the air, but there are lots of other things you can do.
Let's go fly a kite

Lie on your back on a soft floor or bed with your legs bent up, balance your baby or child on your shins, holding them under the arms or hands, and they can 'fly.'  We even sing a little song to "I'm a little teapot":

I'm a little baby, I fly high.
Here is the ground and here is the sky.
Like a little bird or butterfly,
Up I go, I'm flying high.

I started when they were babies, I'm still doing it now with the 4 year old!

Swings – My girls swing at the playground every day after preschool, I get on too!

Play aeroplanes then spin around and get dizzy, lie down and roll on the grass.
Role play being a butterfly

Look at maps or atlases, find where you are, where you've been, where your relatives are, where you would like to go, …

Trampolines are a safety hazard for little ones, but great fun when they are older.  We have a little exercise trampette we use, even when they were babies I could put them on there and gently bounce them and they loved it.
Pretend you have a rocket and are flying to the moon.  What is it like there?

Go on a magic carpet ride.  Crowd on, zoom somewhere exotic and see what life is like there.  Did you know magic carpets can get to fantasy land as well?
Hammocks are great for a lazy snuggle or a swing for little ones.  Even babies can lie in them and be rocked.

Mobiles are fascinating for babies, older kids can make their own.

In the light of the moon a little egg lay on a leaf
Get the Thursday Thirteen code here!
The purpose of the meme is to get to know everyone who participates a little bit better every Thursday. Visiting fellow Thirteeners is encouraged! If you participate, leave the link to your Thirteen in others' comments. It's easy, and fun!
Trackbacks, pings, comment links accepted!
View More Thursday Thirteen Participants
Enjoy this article? Subscribe to the weekly newsletter to hear about them all.
Or grab my RSS feed