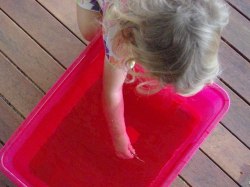 Tubs of water are a big hit around here, both to sit in and play with.  This week's activity involved searching through one of the toy tubs for things to drop into the water tub.  Some things we learned:
All metal sinks, even if it's really tiny filings.
Some plastic floats and some sinks.
Glass sinks.
Under no circumstances can you drop the camera in.
Flat things take a while to go down and often 'swim' around the tub.  Particularly effective with a large toy stingray.
Hollow things will float, at least until you pile so much into them a corner goes under, then they fill up and sink.
You can get great splashes by dropping things from higher.
I'm serious about the camera.
You can pour water into the hollow containers to make them sink.
This doesn't even include all the other fascinating things you can drop into water – flannels and other material, natural things like sticks, dirt, leaves and rocks, paper and cardboard. But not the camera.
Or the pouring games with tea sets and containers of different sizes and different necks or using funnels and scoops. And let's not even mention adding colour or detergent.
For a great change of pace and something that can be revisited again and again by all ages, it's hard to go past a tub of water.
Enjoy this article? Subscribe to the weekly newsletter to hear about them all.
Or grab my RSS feed