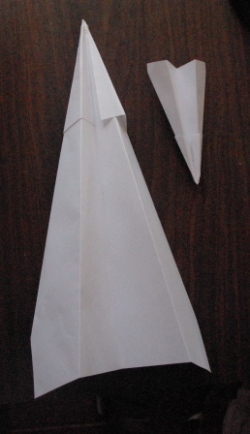 Or in this case left, right, in loops and into walls. We've been playing with paper planes and having a ball. The little girl wanted to catch them, and spent ages with me standing less than a metre away tossing one back and forth – I guess it hurts less when it hits you than a ball.
Big girl had a great time trying to fold it for herself, she doesn't quite have the co-ordination to get nice sharp points but managed a team effort. We just did a really simple pattern, I think of it as 'fold the corners three times.' Fold a piece of paper lengthwise, then fold the front corners in to the middle line to make a triangle point. I turn it inside out at that point and grab the top corner (top of the windscreen) and fold it down parallel with the bottom edge, then do the same again. I've found it's the simplest design that consistently flies, and there's a convenient little triangle for the kids to hold so it's easy for them to learn to throw them.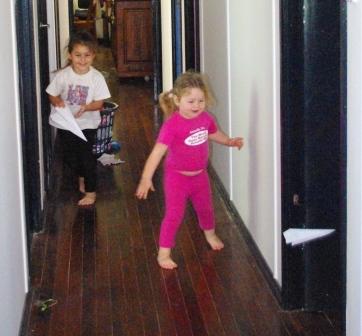 Some of the other things they tested were throwing techniques, getting it to go straight, getting it to go high and getting it to go the furthest.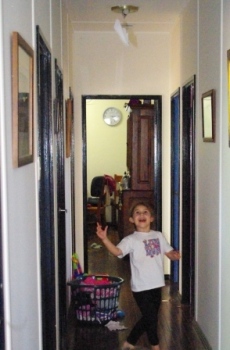 For older kids, some ideas to turn it into an experiment include:
Compare different papers.
Compare different folds.
Try using flaps or paper clip/blutac weights.
See what makes the best trick plane or the best distance flyer.
Practice doing something several times and averaging results.
Or you can just have lots of fun 🙂
This post is part of the We Play linkup at Childhood 101.

Enjoy this article? Subscribe to the weekly newsletter to hear about them all.
Or grab my RSS feed