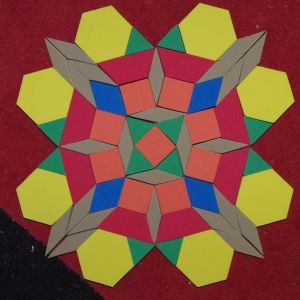 This one is more maths than science, but it's a great activity for little kids.  It can be used to develop fine motor skills and co-ordination, as well as learning about colours, shapes and patterns which are important maths skills.  These came from Wooldridges, an educational supply store.  Educational stores and office supplies are great places to buy toys – they're much more interesting than anything you find in toy stores!  Plus we've found Wooldridges extremely helpful, they have got specific toys in for us or helped us source others.
Doing them on the carpet stopped them from flipping around and helped line them all up.  I didn't say anything but just started making patterns.
The big girl got the hang of flowers very quickly.  What was even better, she started getting the little one to help her – "Get me two more brown ones."
There's a whole heap of Cs there – colours, counting, co-operation and co-ordination.  Plus shapes 🙂  After that she started adventuring in three dimensions and with different shapes, but still sticking with the basic flower theme.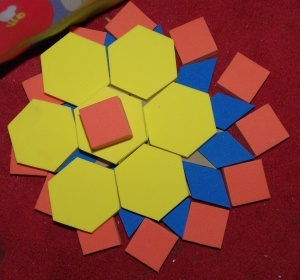 And she added different materials.

While all this was going on the little one was still happily putting them back in the container and getting out the ones we asked for, and they were both helping me decide what to put in next.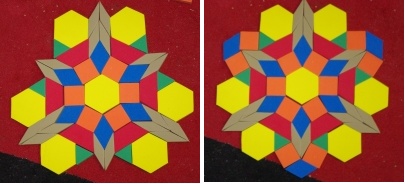 Then she started moving away from the flower theme onto paths, and is generally exploring.

I love toys like this – there was something there for all of us to enjoy at our different levels and they are so rich in the things you can talk about, but so open-ended in what they can do with them.  They can also lead to imaginative play among the footpaths and giant flowers.
Enjoy this article? Subscribe to the weekly newsletter to hear about them all.
Or grab my RSS feed