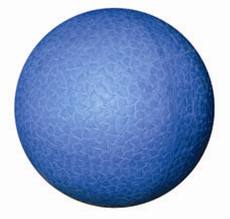 Or in our case, the rolling ball.  That was the strict rule we enforced after the big girl was trying to do drop kicks.
As far as the girls are concerned right now the best feature of the new house is the 10 metre hallway down the middle.  They've been pushing prams back and forth, racing and following the leader, but today they unpacked some balls and off they went.  Along with all the breathless giggling there were some serious experiments happening:
Faster
For hyperactive pre-schoolers it's all about speed.  How do you get a ball to go faster?  Does pushing work better than hitting?  What about kicking?  Is it better to do one big push or follow along behind the ball and keep tapping it?  Does it count if you end up tangled?
Further
Ten metres is a long way, especially when you are two.  Is it better to sit or stand?  Or even lie on your tummy?  Do bounces help or is it better to roll it?
Straighter
It has to go even further than 10 metres if it keeps going through doors!  So how do you get it to go straight?  What happens with a bit of spin?  Or keeping it in your hands longer by reaching back between your legs then whooshing it forwards?
Ricochets
Straightness or lack thereof naturally leads to ricochets.  How many wall bounces can you get?  What happens if it bounces off a door frame?
And a wonderful time was had by all.
Serious Stuff
Balls are great inspiration at any age.  From a newborn waving their arms around to adults paid obscene amounts on the sports field they let us learn with our whole body.  They allow us to stretch, reach and change direction.  They teach us about power and physics and precision without feeling like a classroom or a test.  They show us how much we instinctively know and encourage us to explore.
For some serious science, get out the balls.
Enjoy this article? Subscribe to the weekly newsletter to hear about them all.
Or grab my RSS feed